Pandemic Successful Restaurant Moves Into Pleasant Hill
(May 21, 2021 – PLEASANT HILL, CA) –
Southern Comfort Kitchen Inks Lease on Second Location
Southern Comfort Kitchen, a New Orleans style restaurant started in Castro Valley signed a new lease for their second ever brick and mortar restaurant space at Crescent Plaza in Pleasant Hill. The deal, which was officially agreed on April 28th, was a landmark achievement for the business. While restaurants, especially those with food truck divisions, struggled to maintain momentum in the pandemic year, Southern Comfort continued to soar. Brokers Sharon Quintero and Amanda Johnson represented the restaurant.
"We were just 3 people born in Louisiana who came to California to pursue our dream. Our family business wanted to provide good food at a good price.  We have always wanted to bring our food to the masses and go up against real franchises and this second location at downtown Pleasant Hill is a great opportunity to do so," said owner Brett Brill, who runs the organization with his two brothers and under the inspiration from their parents.
The new location fills in the previous spot occupied by Yalla Mediterranean in Crescent Plaza. Part of Pleasant Hill's retail core, the car and pedestrian-oriented locale will be able to service the movie theater, city hall, among other soon-to-be bustling destinations. Crescent Plaza also recently lost Fat Burger and Sweet Tomatoes, so the center is hungry to fill in vacancies by capable restaurants.
"Covid hit a lot of local favorites hard, but that meant that the ones that were successful even throughout are the real deal," explained broker Amanda Johnson,. "We've seen their trucks all over the Bay Area for years now, and as people begin to go out to eat more and more, it will be great to have another option of a brand they know is good. Southern Comfort has become that brand and they wanted to pounce on the opportunity that presented itself."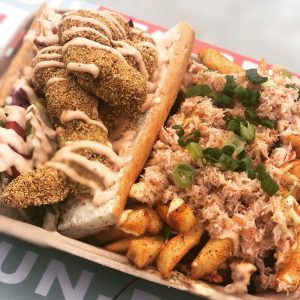 About TRI Commercial/CORFAC International
Founded in 1977, TRI Commercial/CORFAC International is a leading Northern California commercial real estate brokerage and property management firm (with more than 4 million square feet of commercial property under management) specializing in San Francisco, East Bay and the Sacramento Metro property markets. The company has expertise in tenant and landlord representation services and helps clients buy and sell commercial and investment-grade property. The company serves office, retail, land, multifamily and industrial property sectors, with offices in San Francisco, Walnut Creek, Silicon Valley, Oakland, Roseville, Sacramento, and Rocklin. For more information, visit www.tricommercial.com or call Justin Flom in Corporate Marketing at 925.269.3335
CORFAC International is comprised of privately held entrepreneurial firms with expertise in office, industrial and retail properties, tenant and landlord representation, investment sales, multifamily, self-storage, acquisitions and dispositions, property management and corporate services. For more information on CORFAC's International presence, call the Chicago headquarters at 224.257.4400 or visit  www.corfac.com.
# # #