Fremont Industrial Building Sells Below 5 CAP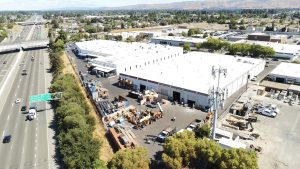 Fremont Industrial Building Sells Below 5 Cap
Improved, Bifurcated Warehouse Property Sells for Over 10 Million
(January 26, 2023 – Walnut creek) –  TRI Commercial is pleased to announce the sale of 37421 Centralmont Place in Fremont, California. This warehouse building, located in the insular industrial zone near the Fremont FAA Center and along the Nimitz Freeway, is the latest sale to top ten million dollars in price, and validating the strength of the industrial market. Ed Del Beccaro, and Teddy Swain represented the seller. The property was occupied by a national construction company, and featured a number of details that were appealing to a wide number of future occupants.
"One of the challenges our team faced was the tenant's 6-month lease termination clause provided in the lease agreement which made financing the deal extremely difficult. Despite this curveball we were able to secure an all-cash buyer and close at a 4.85% cap rate with a sale price of $10,300,000. Goes to show just how strong the industrial asset class remains."
37421 Centralmont Place was acquired by an investor as a future food manufacturing site, however that decision has not been finalized.
About TRI Commercial/CORFAC International
Founded in 1977, TRI Commercial/CORFAC International is a leading Northern California commercial real estate brokerage and property management firm (with more than 4 million square feet of commercial property under management) specializing in San Francisco, East Bay and the Sacramento Metro property markets. The company has expertise in tenant and landlord representation services and helps clients buy and sell commercial and investment-grade property. The company serves office, retail, and land, multifamily and industrial property sectors, with offices in San Francisco, Walnut Creek, Oakland, Roseville, Sacramento, and Rocklin. For more information, visit www.tricommercial.com or call Justin Flom in Corporate Marketing at 925.269.3335
CORFAC International is comprised of privately held entrepreneurial firms with expertise in office, industrial and retail properties, tenant and landlord representation, investment sales, multifamily, self-storage, acquisitions and dispositions, property management and corporate services. For more information on CORFAC's International presence, call the Chicago headquarters at 224.257.4400 or visit  www.corfac.com.
Media Contact:
Justin Flom
925.296.3335
Justin.Flom@tricommercial.com