Top Retail Leases Recognized for East Bay/Oakland
(July 31, 2021 – OAKLAND, CA) –
Prominent retail leases signed by Sprouts Farmers Market, VinFast and S&G Flooring negotiated by top dealmakers from Merlone Geier Management, SRS Real Estate Partners, Lee & Associates Commercial Real Estate Service and Colliers International are among the second quarter retail leases recognized by CoStar.
As big ticket items involving sizable investments, commercial property transactions often have a wider impact within the community. CoStar will recognize the largest leases completed each quarter and the dealmakers who made them happen in their respective markets.
Here are the East Bay/Oakland retail leases selected as the second quarter 2021 winners of the CoStar Power Broker Quarterly Deal Awards:
Space Leased: 6,600 SF
Deal Type: New Lease
Size: 6,600 SF
Tenant: Unlimited Wireless
Brokers Involved: John Dunning of Tri Commercial/Corfac International represented both sides of the deal.
Deal Commentary: Unlimited Wireless, a wireless provider of wireless phones and repair services, recently leased space at this Oakland retail area on International Blvd. located in the Oakland-South/Airport submarket. The freestanding, single-tenant property is owned by Oakland-based Huntleigh Development, Inc.
Full article: https://product.costar.com/home/news/shared/1942343649?source=sharedNewsEmail
Multi-menu Delivery Platform Moves Into Fruitvale
(May 28, 2021 – OAKLAND, CA) –
Last week, REEF Technologies (www.reeftechnology.com) signed a lease for a vacant parking lot 1 block north of Fruitvale BART in Oakland – their first operation Oakland. Delivery-based food service retail appears to no longer be a trend, and Miami-based REEF Technologies is one of the businesses betting on it. The company connects major and minor brands to new markets they don't currently exist in – and allows them to set up a 'Ghost Kitchen' where they can duplicate the restaurant's menu, but not accept walk-up customers.
The first foray into Oakland is at 1242 35th Avenue, a previously underused ±13,000 SF gated lot along International Boulevard. Five businesses have already set up on site out of this location. Jack in the Box, which made headlines earlier this month when they formed a major partnership with REEF Technologies. "It's great to see this section already in action – what was once a paved lot is now home to a lively collection of businesses, big and small," said John Dunning, the broker who represented both sides of the license agreement.
"The way we connect and do business with  one another has changed, it only makes sense that we would also think creatively about the future of how we use real estate." Dunning also divulged that a small grocery operator had partnered with REEF to do some delivery items off of the lot, as well as Carbon Health (www.carbonhealth.com), who perform some basic medical services, such as rapid Covid testing.
(May 21, 2021 – PLEASANT HILL, CA) –
Southern Comfort Kitchen Inks Lease on Second Location
Southern Comfort Kitchen, a New Orleans style restaurant started in Castro Valley signed a new lease for their second ever brick and mortar restaurant space at Crescent Plaza in Pleasant Hill. The deal, which was officially agreed on April 28th, was a landmark achievement for the business. While restaurants, especially those with food truck divisions, struggled to maintain momentum in the pandemic year, Southern Comfort continued to soar. Brokers Sharon Quintero and Amanda Johnson represented the restaurant.
"We were just 3 people born in Louisiana who came to California to pursue our dream. Our family business wanted to provide good food at a good price.  We have always wanted to bring our food to the masses and go up against real franchises and this second location at downtown Pleasant Hill is a great opportunity to do so," said owner Brett Brill, who runs the organization with his two brothers and under the inspiration from their parents.
The new location fills in the previous spot occupied by Yalla Mediterranean in Crescent Plaza. Part of Pleasant Hill's retail core, the car and pedestrian-oriented locale will be able to service the movie theater, city hall, among other soon-to-be bustling destinations. Crescent Plaza also recently lost Fat Burger and Sweet Tomatoes, so the center is hungry to fill in vacancies by capable restaurants.
"Covid hit a lot of local favorites hard, but that meant that the ones that were successful even throughout are the real deal," explained broker Amanda Johnson,. "We've seen their trucks all over the Bay Area for years now, and as people begin to go out to eat more and more, it will be great to have another option of a brand they know is good. Southern Comfort has become that brand and they wanted to pounce on the opportunity that presented itself."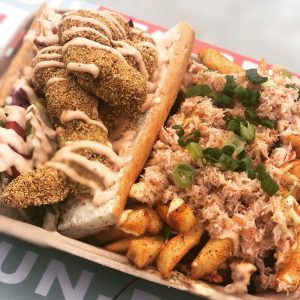 About TRI Commercial/CORFAC International
Founded in 1977, TRI Commercial/CORFAC International is a leading Northern California commercial real estate brokerage and property management firm (with more than 4 million square feet of commercial property under management) specializing in San Francisco, East Bay and the Sacramento Metro property markets. The company has expertise in tenant and landlord representation services and helps clients buy and sell commercial and investment-grade property. The company serves office, retail, land, multifamily and industrial property sectors, with offices in San Francisco, Walnut Creek, Silicon Valley, Oakland, Roseville, Sacramento, and Rocklin. For more information, visit www.tricommercial.com or call Justin Flom in Corporate Marketing at 925.269.3335
CORFAC International is comprised of privately held entrepreneurial firms with expertise in office, industrial and retail properties, tenant and landlord representation, investment sales, multifamily, self-storage, acquisitions and dispositions, property management and corporate services. For more information on CORFAC's International presence, call the Chicago headquarters at 224.257.4400 or visit  www.corfac.com.
# # #
In the midst of the COVID-19 pandemic, it is essential that landlords continue to educate themselves, communicate openly, and surround themselves with experts in order to stay on top of the ever-changing legal landscape. To help make this possible I am sharing a great conversation I had last week with attorney Daniel Bornstein of Bornstein Law who specializes in landlord-tenant matters. For over 26 years, rental housing providers have relied on Daniel to cauterize risk, realize the full potential of their investment property, and power through unique challenges inherent with owning and operating a real estate business.
Below are some of what I felt were the most relevant and prudent points we discussed.
Daniel, with all that is going on right now, how can landlords in Alameda County best be prepared?
Most important to note right now is that the courts are closed for non-payment of rent cases, there are no jury trials because of social distancing. Alameda County across the multiple cities has issued a prohibition against eviction for non-payment of rent which means right now, if you have a tenant who is not paying rent, you really want to be on-top of communication with that tenant. You should be actively asking why aren't you paying the rent, is it related to COVID-19, loss of job, childcare needs or something else? Then you need to make a decision: are you going to be differing the rent, renegotiating the lease, or negotiating a buyout of the lease?
One important point is that from a landlord's perspective knowing the courts are closed, it is in some cases better to have a vacant unit than a tenant not paying the rent in the unit. There is a possibility that you're not going to gain possession, the non-payment of rent may elapse for more than 6 months, and there is no clarity as to when you're going to get that vacancy. So, if a tenant says I am willing to vacate if you let me out of the lease that may be perfectly prudent because what is the alternative? The courts are closed, you're not receiving rent, and to do an eviction right now is not permissible and may not be permissible this year. We are in a very unfortunate situation for many landlords around Alameda County right now.
How would you approach a situation where you have a tenant who is communicating openly and requesting a rent reduction?
That is a good question, and I take it on an individual basis – if you just started a tenancy, and the rent is at market rate, and we are seeing downward pressure on rents, it may be prudent to negotiate a 10-20% reduction in rent and keep that tenant in the unit and happy. In the end, cash-flow is better than no cash-flow, and the issue is whether this is a credible person that you want to do business with or not. In the event that you do have a tenant who is engaged and in good faith and is without a job, you're going to have to make a decision of whether you are going to delay payment, differ payment or waive rent.
One big note, if you reduce the rent and you don't do it correctly, you may reset the base rent so that you may be subject to that new base rent in later years when times change. All things equal, I'd rather you defer the rent or just keep track of the debt that is accruing and, in the future, come to a decision of whether you are going to waive it or try and collect it. Alameda County has done something very unusual in that they have indicated that tenants with rent debt that has arisen during the COVID-19 emergency are going to be given 12 months after the emergency is ended to repay that debt. If it is not repaid it will be transitioned to consumer debt, so you will not be able to evict a tenant for COVID-19 related debt. You can take it from the security deposit and you can file a lawsuit against them, but you're not going to be able to use a three-day notice to pay rent or quit to recover it. Knowing that has basically pushed me to suggest the age-old adage, a bird in the hand is worth two in the bush. Which means if you can collect a portion of the rent now, do so because I don't know that you'll ever be able to recover it in the future.
All things being equal, and if you don't want to get into the complexity – if the rent is $1,000 and you receive $750, you can accept $750 but follow it up with an email saying, 'I've accepted $750, but be advised there is still a debt of $250 for the month of July.' I'd do it that way and just keep track of the debt that's accruing.
How has your business changed and what kinds of requests are you getting from clients at the moment?
It's a tough time to be an attorney right now because the courts are closed! So, what I am typically doing right now is consulting, educating, empathizing and commiserating, because I don't have that many skills that I can offer right now to help accomplish goals. Which translates to, compromise, compromise, compromise is really what I am suggesting. This is an outlier of an event, I've never been involved with a pandemic before, I've never seen the courts closed, so this is a work in progress.
As far as an outlook, what if any legal trends you are forecasting?
Trending in my mind is that there is going to be continued downward pressure on rent, and there is going to be more and more tenants that are unable to pay the rent. After July, if there aren't additional unemployment payments then there is going to be even more tenants unable to pay. Then it will be up to the politicians to decide how they are going to handle this crisis, but my expectation is that we are in for a very long and difficult journey together.
I am particularly concerned about another issue, which is the courts are moving existing cases to September, and they will likely move the existing cases that have been moved to September, to December while we are getting a confluence of new cases that are arising. Our systems are clogged and only will get further clogged, which means if you can avoid litigation, if you can avoid a dispute with a tenant, avoid it, negotiate transitions, and don't expect to accomplish your goals easily through litigation.
One easy analogy if you've been following the news lately, you'll have seen the actor Johnny Depp has decided to pursue a claim in Britain against his ex. In the process of pursuing litigation, he has ensnared himself in something much larger and from a public standpoint it has been miserable for his reputation. In some respects, the optics of pursuing litigation on a tenant right now are not ideal and only in a last case solution would I pursue it. There are going to be times where you have to pursue it because you have a tenant who is not communicating or cooperating, and you have to seek judicial remedy but for all other instances see what you can do outside of court.
Written By: Teddy Swain, | July 29, 2020
About the Author:
Teddy is a commercial real estate broker and adviser at TRI Commercial Real Estate Services in the San Francisco East Bay. His expertise lies in the acquisition and disposition of East Bay Area Multi-Family and Mixed-Use property as well as Entitlement and Development Opportunities.
Teddy also serves as the Technology Officer on the board of directors for the Certified Commercial Investment Member's Northern California Chapter (CCIM).
DRE# 02067677 Email: teddy.swain@tricommercial.com –
Direct:925.296.3360
Read original article on The Registry here.
By Chris Macias
On the surface, the scene looks like an idyllic snapshot of brunch time in downtown Sacramento.
It's a recent Saturday morning at Jim-Denny's Diner, where servers carry Frisbee-sized pancakes to its sunny and crowded patio. Inside, the 10-seat counter remains packed and chatty while onions and burgers sizzle on a tiny grill. The line snakes out the door and down 12th Street.
But it all goes down bittersweet. Jim-Denny's Diner is in its final days, with plans to close for good on Feb. 2 after 85 years in business. What smarts even more is how much scenes like this are being replicated these days in Sacramento.
Danielle McCune, co-owner of Jim-Denny's, sometimes holds back tears as the restaurant's final closure inches near. She and her family took over the landmark eatery about a decade ago, the fifth family to carry on this iconic Sacramento brand that was founded when Franklin D. Roosevelt was president.
"I'm trying not to cry," McCune said by phone after a recent lunch rush. "All my kids grew up there and I'm trying to tell them what to do now. Our whole life was Jim-Denny's. We never saw this coming until December."
Starting in the final weeks of 2019, Sacramento has witnessed a dramatic wave of restaurants closing or announcing their impending shutdown. At one point, headlines blared "bloodbath" as the toll hit 10 restaurants in less than two weeks. The list includes such beloved legacy spots such as Jim-Denny's Diner, Original Perry's and Café Marika. New-school restaurants weren't spared either, including Hot Italian, The Press Bistro and Mother, the Michelin-honored vegetarian restaurant.
Local restaurateurs are spooked, wondering if Sacramento's food bubble has burst. Customers wonder what's becoming of Sacramento as the industry in "America's Farm-To-Fork Capital" seems to be going fallow.
Or maybe restaurants have been drenched in a perfect storm of business challenges, as costs continue to increase from a higher minimum wage, rent and food—all while trying to survive on razor-thin profit margins.
McCune said the property owner was planning to double their rent. The nearby Sacramento Convention Center is closed for renovations until November, which cut the diner's tourist business.
Jim-Denny's Diner was done.
"All I can say is thanks for the love and support, and keeping us there as long as we were," McCune said.
Restaurant rush
Remember a decade ago, when a Golden Age of restaurants and culinary culture emerged across the country? Sacramento was no exception.
Local chefs became celebrities, while a rush of new places catered to just about every taste. Whether it was sushi, vegan dishes, high-end tweezer food or a gigantic burger, Sacramento had it covered.
Rodney Blackwell remembers those salad days, when food bloggers scurried to the latest openings and new foodie events were born.
In 2012, on the heels of his successful "Burger Junkies" blog, Blackwell founded the Sacramento Burger Battle. This all-you-can-grub event for charity now draws upwards of 1,000 people each year.
"For me, it was exciting because it was all new to me," he said about the early 2010s. "I had just discovered an app called Foodspotting. That's where I found all the restaurants downtown and saw where people were eating. They were different than the usual upscale places. They were diverse and cool and it was fun to see it all grow."
Then, it all seemed to change in the final weeks of the decade.
Fat City Bar & Café in Old Sacramento closed in November after 43 years of business. Original Perry's, the beloved South Sacramento diner, announced its closure in December after a half century, citing slowing business and rising rents. Hot Italian, the Midtown pizza staple, closed on Dec. 29 following ownership disputes.
New Year's Eve was especially grim. As 2020 approached, Mother, Sail Inn Grotto & Bar in West Sacramento and The Press Bistro all served their final customers and prepared to shut down for good.
The closures didn't stop. In January, Café Marika's owners announced they were retiring after serving Hungarian food for three decades. Jim Denny's-Diner and Café Rolle, the French sandwich shop in East Sacramento, announced their own closures. By the end of the month, Gogi's Korean BBQ near the State Capitol was also done.
Local restaurant owners such as Simon DeVere White had worried about a downturn like this. Along with his brother, Henry DeVere White, the family oversees De Vere's Irish Pub locations in downtown Sacramento and Davis, along with The Snug bar at 15th and R streets.
They've seen the times get tighter all around Sacramento's restaurant industry, neighborhood diners and white-tablecloth eateries alike.
"I think this is the tip of the iceberg," Simon DeVere White said. "We're going to see a lot more restaurants close this year. It's not just one thing. Minimum wage is not the reason restaurants are closing. It's part of it. But it's part of a larger issue and problem. It's really hard right now with the costs of doing business being so high and every year going higher and higher."
But like all industries, there will be good times and big downturns. The Great Recession of 2008 also led to a wave of local restaurant closures.
The opening of the Golden 1 Center in 2016 was supposed to be a boon for downtown restaurants. Several new eateries opened in anticipation. But it's proven to be an especially tricky area to do business, said Brenda Miller, a TRI Commercial vice president who specializes in leasing restaurant space. The cost of leases, tough competition and light traffic on non-event nights are a triple-whammy for restaurant owners.
"There was new development on K Street in front of the entrance that still is not totally complete, and because of cost of construction and the excitement, the rates were very high," Miller said.
The bottom line
The truth is most restaurants are lucky to make it in the long haul. Restaurants tend to run on the slimmest of profit margins, often between 3% and 5%. So even the slightest of overhead increases can do significant damage to a restaurant's bottom line.
DeVere White says the minimum wage increase to $13 an hour as of Jan. 1 means "thousands of dollars" of increased costs. When wages rise, so do workers' compensation and payroll taxes. And that's on top of spiking food costs and rents.
"Every year, everything goes up," DeVere White said. "Whether you own a restaurant or not, you go to the grocery store and realize that carton of milk used to be $2.99 and now it's $4.99. It's no different for us."
"A lot of restaurants are trying to do more with less," he added. "You might not have a hostess or food runner like you used to. Do you just keep one server on the floor? We all know how quickly that can backfire."
Or owners opt to shut down.
The uptick in restaurant closures isn't limited to Sacramento. According to SFGate, which crunched numbers from Yelp and other sources, more than 400 restaurants closed in San Francisco during 2019. Restaurateurs took their complaints to City Hall in September, raising such issues as high rents, labor costs and other factors they said were crippling the local industry.
The California Restaurant Association has kept a close watch. Based in downtown Sacramento, just a few blocks from Jim-Denny's Diner, the association advocates for the state's nearly $82 billion restaurant industry.
"If policymakers don't find a solution that helps both workers and small businesses thrive, more family-owned restaurants will close and more working people will lose a shot at a first job," an association spokesperson said in a statement to SN&R.
Like San Francisco, the issue of spiking rents remains a key concern for Sacramento restaurants. According to TRI Commercial, a property management company that collects real estate data in Sacramento and other cities, retail leases have in Midtown and downtown more than doubled over the past decade, from $1.39 per square foot in 2009 to $2.26 in 2019.
Want to open a restaurant in Downtown Commons or near the Golden 1 Center? Those leases can jump to $3.50 to $4 per square foot.
These figures also don't account for "triple net," a typical agreement where tenants pay all property expenses—such as maintenance, real estate taxes and building insurance—on top of their leases.
And leasing costs almost always go up; the industry standard is 3% each year. A restaurant that in 2010 was paying $10,000 per month in rent is now at a rate closer to $15,000 a month.
"For us, the main thing was the rent," McCune said about her restaurant's closure. "The property was being sold by the owner and it was going to double the rent we pay. It's been crazy."
One last bite
So is the line back at Jim-Denny's Diner.
Gloria Patton-Ross of Sacramento endures a nearly two-hour wait to receive her burger order. But it's now or never. She savors the memories, as do so many others in line. They take cell phone pics and ask for mementos. A copy of the menu, a business card, even the smallest of souvenirs will do.
"I worked across the street and used to come here all the time, for breakfast and lunch," said Patton-Ross, with a whisper of defeat in her voice. "This was one of my favorite spots. It's such a shame, but it is what it is."
The soul of Sacramento can be found in homespun places such as Jim-Denny's. You can also find it in a plate of goulash from Café Marika, or a hot duck pâté sandwich from Café Rolle, or a dish of steaming loco moco from June's Café, the Japantown favorite that's been shuttered since July.
When legacy restaurants like these go away, so do slices of Sacramento history. Their dishes speak to the city's diversity, the character of its neighborhoods and the loyalty of its customers.
"The neighborhood joints, you're not just meeting your neighbors there, you're getting to know the chefs, the cooks," said Blackwell, the food blogger. "When you become a regular at a place like that, people know your name, like a Cheers kind of thing. It sucks to lose places where you have the familiarity, and you can only hope other places will come in to fill those needs."
Ultimately, Sacramento's restaurant industry may be undergoing its latest changing of the guard, one where the strongest will survive—and thrive—in this age of rising costs. After the Great Recession, other restaurants filled vacated spaces as well.
"Things are always going to be evolving," said Christina Snyder of TRI Commercial. "Even though we're having this kind of fallout from restaurant tenants, we're already getting calls from other [restaurant owners] that aren't even in this market."
So Sacramento restaurant owners press on, through the grim headlines and financial challenges.
Some glimmers of good news have emerged during the spate of closures. Though Mother closed its K Street spot, some of its signature dishes can still be found at Empress Tavern. Part of Mother's founding team is also on the verge of opening Jim's Good Food, a diner at 16th and O streets.
It was also announced this week that Nash & Proper, the popular food truck that peddles Nashville-style hot chicken sandwiches, will open a brick-and-mortar location at the former Mother spot.
The long-vacated Saddle Rock space near 18th and L streets recently reopened as Saigon Alley. Opa! Opa! is relocating to Midtown after originally announcing in November that it was shutting down in East Sac. Localis is moving to East Sacramento and turning its 21st and S location into a tapas bar.
Even in these turbulent times, the hunger for Sacramento cuisine is still there.
"It's always sad to see a landmark restaurant close," DeVere White said. "But I'm very optimistic and I'm very passionate about what we do. As the city goes through its growing pains, so do the restaurants."
View original newsreview.com article here.
The neighborhood has avoided a plague of vacancies, but stability brings its own threats
By Shwanika Narayan and Roland Li | Sept. 27, 2019
On most days, West Portal Avenue teems with shoppers. Parents with little children scuttle from Ambassador Toys to the public library. When thousands of daily commuters exit the century-old Muni station, they're steps away from bars and restaurants — some of which have been there for decades, like the Philosopher's Club.
The stores here, and their owners, are resilient. Papenhausen Hardware survived a fire, filled a temporary space, and returned this month to its renovated, restored original space. Though the CinéArts at the Empire had to split its one screen into three, it's the rare neighborhood cinema that still thrives in San Francisco.
For West Portal resident Tara Hardesty, who brought her kids to meet Clifford the Big Red Dog at a September book festival, the consistent roster of events foster a strong sense of community. It's one of the reasons she purchased a home there.
"West Portal has always been a place for families," she said, as her kids played lawn games and filled up coloring books. "There's a real sense of community here and you still get the perks of the city while being in a quieter environment."
Stories like Hardesty's tell you some, but not all, of the reasons West Portal seems largely immune to the plague of empty storefronts proliferating in many San Francisco neighborhoods. It doesn't have the cachet of Union Square or the tourist magnetism of North Beach and Chinatown, but West Portal's compact four-block size boosts foot traffic, merchants say. West Portal has the lowest retail vacancy rate among the city's neighborhood shopping districts, suggesting it has weathered the tsunami of e-commerce better than other places.
A Chronicle investigation in North Beach, the hardest-hit neighborhood in recent years, uncovered many reasons that stores fail and landlords struggle to find businesses to replace them. Understanding a success story like West Portal is harder — as is seeing the challenges that may lurk beneath a veneer of prosperity.
One factor that is hard to reproduce is wealth: According to 2010 census data, West Portal's 8,052 residents have a median household income of $140,737, compared with the city median of about $96,000.
But how they spend that wealth has shifted dramatically. West Portal's sales tax revenue — a measure of retail performance — rose steadily for years until it dipped 2% from 2017 to 2018, according to city data. That masks big shifts in the tax base: Tax collections from restaurants grew almost 50% from 2013 to 2018, matching a nationwide trend of increased spending on food away from home, while retail declined by 16% over the five-year period.
Business advocates say that while West Portal has historical economic advantages, it can't be complacent. Small businesses grapple with all the challenges of retail, including the rising cost of business operations, the shift to online shopping, and changing consumer tastes.
Those challenges make events and other promotions crucial. "Foot traffic is down all across the city," said Vas Kiniris, executive administrator of the San Francisco Council of District Merchants Associations. "People really do not need to get out of their homes to buy a product or to even get food. So we need to create these experiences for people to come to these corridors." Kiniris said the rise in restaurant sales tax revenue reflects a preference for experiences, rather than material goods.
Merchants are doing what they can to provide those experiences, organizing street fairs, parades and guest talks. The nearby Stern Grove Festival draws 100,000 music fans during the summer. In some neighborhoods, Airbnb has a bad reputation for driving up rents or bringing noisy tourists to quiet residential streets, but here, business owners credit hosts for sending out-of-town customers their way. But events are costly, too, with street permits, bus rerouting fees and security costs to be paid, Kiniris said.
In West Portal, there are not only stores, but also services like dentists, doctors, real estate brokers and financial planners, making it a self-sustaining business area, he said.
"People are very loyal to this community. They grow up here, they raise their families, then the children come back," he said.
But do they open up their wallets? For Linda Kapnick of Ambassador Toys, that's the challenge.
"We have a very nice following in the neighborhood, but I don't see growth," said, Kapnick, president of the 22-year-old store. "We're seeing our sales drop."
Customers come in with kids, pick out toys and then buy them for less from Amazon, she said. It's impossible to compete on price with the e-commerce giant, she said.
"They literally take pictures and then say, 'Oh, well, I can find it cheaper on Amazon.'" she said.
Maryo Mogannan, vice president of the West Portal Merchants Association, sees another negative effect from Amazon. He owns the Postal Chase, a shipping store, and says younger customers will walk in and be shocked that it costs money to mail things.
"These under-30s go, 'What do you mean I have to pay $10 to mail this? Amazon gets me this two days for free,'" he said. He sees a broader problem with online convenience. Young customers expect everything to be brought to them. And that hurts local retailers, he said.
And while the neighborhood has abundant transit, parking is limited. Many shoppers want to drive to the street and park, particularly if they have kids in tow, said Kapnick.
Perpetual construction on the century-old West Portal Muni Metro Station has led to rerouted traffic and street closures.
Parking tickets cost $90 or more, which can also turn off shoppers from returning.
"At some point, you just lose interest in going to an area," said Papenhausen Hardware co-owner Karl Aguilar.
Some West Portal businesses have ended long runs. In August, 82-year-old Portals Tavern closed because its new landlord didn't extend the bar's lease. Others like Manor Coffee Shop, a diner that opened in 1967, was shuttered in 2016 when the owners retired.
Papenhausen Hardware, which has been open in West Portal for more than 80 years, survived a 2018 fire, thanks to a generous insurance policy that covered workers' salaries and to $7,500 in aid from the city. After a year, it relocated to a temporary space. This month, Papenhausen returned to its building, which has a gleaming new interior.
Beyond selling hammers and doorknobs and locks, the nine-person business offers expertise that's hard to reproduce online. Employees are able to answer specific questions like how to hang a flat-screen television on old lath and plaster walls, or repair sinking steps.
"So as long as those problems exist … we're going to be fine," said Matt Rogers, the longtime co-owner of the store.
Events are another draw that e-commerce lacks. One of the businesses filling up the neighborhood calendar is Bookshop West Portal, which opened in 2006, a time when big chains were going out of business because of Amazon. (A Waldenbooks in the neighborhood closed the same year Bookshop opened.)
Bookshop averages six events a month, said co-owner Anna Bullard. In early September, the inaugural West Portal Book Festival drew hundreds. The week included author talks, a neighborhood book swap, and a day for children. The bookstore teamed with the local movie theater and Rain Tree Cafe for some events.
"We've been competing with Amazon for a really long time," Bullard said. "I think local governments need to be more aware of all the tax breaks they give to these big businesses."
Some tech companies are trying to pitch themselves as helpful to local stores. Airbnb, as part of an effort to build bridges with neighborhoods where its hosts rent out beds, held its first merchant walk in West Portal in June 2016.
"We've heard that the walks are helpful in driving daytime foot traffic," said Adam Thongsavat, deputy director for public policy at Airbnb. "That's what really helps commercial corridors thrive."
Phil Li, an Airbnb host who works from home for a Seattle tech company, said guests invariably ask for recommendations when they stay at his place.
Getting customers in the door is one thing. Keeping the doors open is another, as rising rents throughout the city pose a challenge.
"All neighborhoods want more retail, and retail is going through a sea change — even reasonable rents are really high," said Deidre Von Rock, former president of the West Portal Merchant Association.
She said a number of reasons were behind the handful of vacancies in West Portal, including landlords who don't need to rent or are picky about tenants.
The vacant spaces in the neighborhood tend to be larger, commanding higher rents than a local, independent business might want to pay. RadioShack vacated 123 West Portal in 2014 after almost 50 years. Verizon was negotiating a lease in 2017 and went as far as submitting paperwork to the city, but pulled out at the last minute, said Ken Brownell of real estate firm TRI Commercial, who represents the space.
The owner of 123 West Portal, Rodney Malouf, 82, said he wants a business in the site that's "immune from the internet." Malouf, who inherited the property from his mother in the late 1960s, said he doesn't want to sign up businesses that are "trendy right now, but may not exist in the future." In an ideal world, he said, RadioShack — which went bankrupt twice in the past four years, a case study in failing to adapt to the times — would still be a tenant.
Brownell said there's interest in the location from workout studios, which Malouf is averse to, he said, and restaurants, which would require conditional use permits, a lengthy and costly process.
The city has placed restrictions on the property's use, he said, "and the owner has added more restrictions." Rent for the location is $8,000 a month, $500 less than what RadioShack used to pay, Brownell said.
Malouf's property is still the exception. Most of West Portal's shops are filled, but that stability comes with risks.
"If you have a lot of businesses that have been around forever and haven't adapted or changed, then the street's going to slowly die," said Aguilar, the Papenhausen co-owner. "The market changes. People change."
View the original article on San Francisco Chronicle here.
By Ben van der Meer  – Staff Writer, Sacramento Business Journal
Sep 23, 2019, 9:56am EDT
On the corner of a busy intersection, the Foothill Farms Plaza retail center is a bit tired, something even the owner said he'd admit.
That's beginning to change, though, with a $2 million investment at 5401-5445 Auburn Blvd. to refresh the buildings and bring in a new anchor tenant.
"We had an opportunity to buy and we had a relationship with Goodwill," said Alan Gottlieb, president of Calabasas-based Real Estate Affiliates. "We felt they would add a lot to the center and to the community."
Built in 1960, the 202,554-square-foot center has about 65,000 square feet of buildings. Goodwill will fully occupy a 34,000-square-foot building that formerly housed a grocery store but is currently being gutted for the new tenant.
"At Goodwill, we're always looking for places where we can do the most good in the community," said Rachel Wickland, chief mission officer for Goodwill Industries Sacramento Valley & Northern Nevada. The Foothill Farms location will have retail sales, donation drop-offs and community training, she said.
Gottlieb said that as Goodwill moves into its new space, the rest of the center is getting updated landscaping, parking, and other improvements, while anchors Harbor Freight Tools and O'Reilly Auto Parts will remain, though their buildings will also be improved.
Two spaces, of 4,800 and 1,500 square feet, are available. Bryan Wirt of TRI Commercial/CORFAC International is the broker for those spots. Gottlieb said the larger location would be ideal for a boutique gym or dance studio, while the smaller would best house some kind of food-related use.
According to Gottlieb, Goodwill is set to open in the first quarter of 2020, though Wickland said it could be as soon as November. Most of the rest of the property work should be done by November, Gottlieb said.
Property records with real estate data site Reonomy Inc. show Foothill Farms Sacramento LLC, with an address in Calabasas, bought the property in April for $5.2 million.
View original article on the Sacramento Business Journal here.
With fewer customers eating at restaurants, operators are eyeing more compact locations with dedicated areas for takeout orders.
Restaurants are shrinking. Even though more people are eating out more than before, fewer are sticking around to eat their meal in store. With this shift, brands from Firehouse Subs to McDonald's and Dunkin' to Pizza Hut are rethinking design for both front- and back-of-house to better accommodate delivery and takeout — a strategy that often includes smaller formats.
When considering design, restaurants traditionally focused on minimum guest count and maximizing seats in a dining room, but these conversations are changing, Big Red Rooster Senior Vice President and Managing Director Josh Broehl told Restaurant Dive. Big Red Rooster is a JLL company that works with retailers and restaurants on experience design, brand marketing, design management and strategy consulting.
"It's now about throughput. It's now about how many customers can we serve," he said.
With multiple avenues to reach customers from delivery to mobile order pickups, there's less need for a dining room, he said. There's also financial incentive to reduce — or forgo — the physical dining space. Broehl estimates that dine-in now accounts for about 15% of a typical restaurant's sales compared to several years ago, when it was roughly 40%.
Restaurants are also analyzing customer traffic flow more closely to accommodate those that want to dash inside for pickup as well as others who want to mull over a menu and then decide onsite, Broehl said.
"We need to make sure those pathways are intuitive and easy, avoiding the bottlenecks," he said.
Restaurant design is starting to incorporate different zones where third-party deliveries can do pickups or wait for fulfillment of orders, he said.
"Delivery is a must-have these days," Pamela Flora, director of Americas retail research at Cushman & Wakefield, told Restaurant Dive. "How are [restaurants] balancing delivery prep space versus dining space? Do they have easy access for third-party pickups?"
Mobile orders fulfilled onsite are being brought toward the front for quick pickups and are separate from onsite ordering and dining, Broehl said. Shelves and lockers are increasingly popular as well, with the likes of Chipotle, Blaze Pizza and Cava adding shelves. While there were originally concerns about theft or tampering of food left on shelves, that has yet to emerge as a problem, Broehl said. 
Needing less dine-in space is opening up options for restaurants. They don't need to spend as much on real estate costs and can instead use inline spaces within a retail block instead of a standalone location, Broehl said.
"You'll continue to see that trend where restaurants can take advantage of these more flexible spaces, which will definitely help their operating costs," he said.
While dining rooms are decreasing in size, kitchens are growing due to the addition of digital orders, he said. That often means having multiple makelines. Previously, there may have been a makeline for dine-in and drive-thru orders, but now some QSRs with drive-thrus are even adding a third makeline to accommodate mobile orders, Broehl said. 
For an independent restaurant like fast-casual Bamboo Asia in San Francisco, many of these design concepts, including a small footprint, were part of the plan from the beginning. The restaurant uses a commissary kitchen to prepare much of the Vietnamese, Japanese and Indian dishes that make up its menu offsite, and a sous vide to heat onsite. This allows for a smaller kitchen without heavy equipment, TRI Commercial Restaurant Specialist Erik Reese told Restaurant Dive. He has helped conceptualize restaurants, including Bamboo Asia, throughout his 20-year career in the industry. 
The 1,800-square-foot restaurant only has 30 seats inside and eight outside, and most of its business is off-premise, he said. The restaurant serves about 550 customers between 11 a.m. and 2 p.m.
With less real estate needs, the restaurant was able to relocate in a prime area of downtown San Francisco, where retail rents are $450 per square feet, according to Cushman & Wakefield data.
"It really reduces our labor demands and allows us to get spaces that other companies can't take," he said.
Its location on a popular downtown intersection also serves as a marketing tool for the thousands of drivers who pass by, he said.
"The whole restaurant is an advertisement," he said.
The company is adding 12 more locations by the end of 2020 and plans to open another commissary kitchen, all of which will be built around the idea that around 25% of the business going toward delivery, he said.
A new QSR model
Major QSRs are taking cues from delivery and carryout trends as well. Fast casuals including Cava, Blaze Pizza and Chipotle are testing out drive-thrus for mobile pickup orders. Others, like Firehouse Subs, Subway, Dunkin', McDonald's and Caribou Coffee, are eyeing complete remodels and smaller store formats.
Firehouse Subs is testing a prototype that would be a dramatic design shift for the brand. It uses 25% less kitchen space and holds 28 seats compared to a traditional design of 50 seats.
The design also moves the kitchen from the front to back of the restaurant to better accommodate pickups, which have its own designated area. A stackable sandwich steamer, new to the prototype, helps reduce heating time by a minute, and CEO Don Fox told Restaurant Business the new prototype could result in one less person needed each shift.
Firehouse Subs has plenty of motivation to move toward this model. Its off-premise business now makes up more than half of its sales, according to Restaurant Business.
While McDonald's is in the midst of a major renovation across its U.S. system that will add self-order kiosks, it is also testing a McDonald's To Go format in London. Customers order using kiosks, staff is mainly back of house and there is no seating. The concept is meant to accommodate only diners on the go. 
Pizza Hut is piloting cubbies for pickup orders in California and plans to expand the test into additional West Coast cities next year. These cubbies, aimed to complement its dine-in experience, are placed toward the front of the store and are meant to appeal to customers on-the-go who don't want to interact with restaurant staff. These moves seem to align with the company's recently announced strategy of closing 500 units and reopening them with its delivery and carryout-focused format that offers less dine-in seating.
Caribou Coffee is rolling out a small-format concept in Minnesota called Caribou Cabins. These 600-square-foot stores don't have any dine-in seating, but offer outdoor seating, a drive-thru and a walk-up window. The Cabin stores will offer an expanded beverage menu and a selection of breakfast sandwiches and baked goods. Caribou Coffee is looking to add more locations within the next 24 months, with five opening up in Minnesota initially. The chain will also explore additional store formats in urban and suburban areas.
There could be even more design changes ahead for the dining experience as diner demand shifts.
"Restaurants are working to bring the dining experience to customers when and where they are," Broehl said. 
Instead of being tied to a set kitchen, restaurants could potentially serve up meals in a local park or food hall or other community experience, he said. Several chains like Auntie Anne's and Shake Shack have already done so by launching fleets of food trucks and opening locations at airports and travel plazas. 
For consumers, it will only become easier to order out — exactly what restaurants need.
View the original article on Restaurant Dive here.
Follow Julie Littman on Twitter
Marilyn Hansen Joins TRI Commercial/CORFAC International in Walnut Creek
WALNUT CREEK (APRIL 23, 2019) – Longtime commercial real estate advisor Marilyn Hansen has joined TRI Commercial/CORFAC International in Walnut Creek as Senior Director. With more than 30 years' experience in investment and leasing advisory, she will primarily focus on retail and investment brokerage by providing location intelligence, strategic planning, property acquisition and disposition for clients.
"We are pleased to welcome Marilyn to our East Bay office. With her considerable tenure in the industry, she strengthens our continuing efforts to provide a sophisticated platform to serve clients in the East Bay," TRI Executive Vice President and East Bay Regional Manager Edward Del Beccaro said.
Despite reports of an impending market slowdown, Hansen is bullish on the investment market in the East Bay. "The market is strong, with low supply and high demand and l expect this trend to continue throughout 2019. Economic indicators suggest we're at the top of the market right now and as investor demand slows, we'll see more buying opportunity for owner-users," said Hansen. "Buyers and sellers are looking for brokers who can bring value-add to the table with deep local knowledge of the market, understand future trends in the industry as well as current financial and accounting regulations."
According to the first quarter, 2019 TRI Northern California retail market report current vacancy sits below 5% with almost 2 million square feet under construction. Hansen believes there will always be a need for brick and mortar retail, though companies will have to adapt to evolving consumer habits. Struggling retailers will disappear, stores will continue to "right size" and carry less inventory. Successful companies will create a reason to shop, through retail experience, and AI will play a major role in the future of retail.
Before joining TRI, Hansen was with Colliers International in the East Bay and Grubb & Ellis in Silicon Valley. She is active in a variety of professional and community organizations including, the International Council of Shopping Centers (ICSC), Commercial Real Estate Women (CREW Network), Women Influencing Sustainable Change (WISC) and ProVisors, a professional networking organization.
About TRI Commercial/CORFAC International
Founded in 1977, TRI Commercial/CORFAC International is a leading Northern California commercial real estate brokerage and property management (with over 4 million square feet of commercial property under management) firm specializing in San Francisco, East Bay and the Sacramento Metro property markets. The company has expertise in tenant and landlord representation services and helps clients buy and sell commercial and investment-grade property. The company serves office, retail, and land, multifamily and industrial property sectors, with offices in San Francisco, Walnut Creek, Oakland, Roseville, Sacramento, and Rocklin. For more information, visit www.tricommercial.com.
CORFAC International is comprised of privately held entrepreneurial firms with expertise in office, industrial and retail properties, tenant and landlord representation, investment sales, multifamily, self-storage, acquisitions and dispositions, property management and corporate services. For more information on the CORFAC visit www.corfac.com.
View original article on The Registry.
Marilyn Hansen has joined TRI Commercial/CORFAC International in Walnut Creek as senior director with more than 30 years' experience in investment and leasing advisory.
By Lisa Brown | April 24, 2019 at 04:03 AM
WALNUT CREEK, CA—Longtime commercial real estate advisor Marilyn Hansen has joined TRI Commercial/CORFAC International in Walnut Creek as senior director. With more than 30 years' experience in investment and leasing advisory, she will primarily focus on retail and investment brokerage by providing location intelligence, strategic planning, property acquisition and disposition for clients.
Despite reports of an impending market slowdown, Hansen is bullish on the investment market in the East Bay.
"The market is strong, with low supply and high demand, and l expect this trend to continue throughout 2019. Economic indicators suggest we're at the top of the market right now and as investor demand slows, we'll see more buying opportunity for owner-users," said Hansen. "Buyers and sellers are looking for brokers who can bring value-add to the table with deep local knowledge of the market, understand future trends in the industry as well as current financial and accounting regulations."
---
➤➤ Join the GlobeSt.com Women of Influence 2019 conference July 10th and 11th in Broomfield, CO, which celebrates the women who drive the commercial real estate industry forward. The event will address the critical role of women in the CRE business. Click here to register and view the agenda.
View original article here.