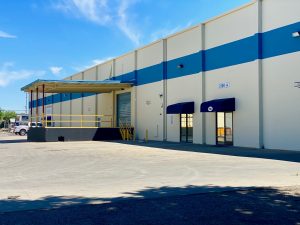 Central Valley Industrial Warehouse Deal is Marker of Logistics/Expansion Balance
TRI Commercial facilitated a lease for Terra Outdoor Living at 2080/2190 East Miner Avenue in Stockton, CA. Terra Outdoor Living, which sells patio and backyard furniture, recently outgrew its previous warehouse location in Richmond, CA. The new space totals 140,000 SF and provides Terra's logistics capability additional maneuverability in covering Northern California – cutting off an extra hour in the supply chain to access the growing population of the Central Valley.
"As the Bay Area has become more urban and crowded, finding room for large warehouse operations gets tougher," explained Keith Serne, who represented both Terra and the landlord in the deal. "Geographically, a move to the central valley makes sense for a lot of companies for both economic and logistic reasons."
When prompted to grow, companies' warehousing operations frequently look for the best bang for their buck without sacrificing mobility and proximity to their workforce and clientele. "Terra Outdoor Living's search fit a unique category in which the move both served a financial and logistic benefit," added Kate Wright, the senior broker who oversaw the transaction and represents the property owner's portfolio of industrial properties. "…And of course the pandemic may have accelerated the process with people sprucing up their homes while spending so much more time in lockdown."
RIO VISTA LAND SIGNALS NEW PHASE IN BURGEONING TOWN
Hundred Acres of Land Ready for Development Shaped Around Planned Neighborhoods
– Brian Slocum of TRI Commercial went to market last week on two additional pieces of development land for sale in the Rio Vista, California. The parcels, one measuring just over 24 acres and is Commercial focused; the other is 46 acres which is Industrial focused, flank two sides of the  golf-oriented Trilogy by Shea home community. The two sites join a third plot of Industrial/Flex land  to the north also for sale which is 33 acres near the Liberty Island active adult and non age restricted residential neighborhoods. Liberty Island residential has sustained explosive sales activity throughout the past year as residents from the inner SF Bay Area continue to spread out.
The town of Rio Vista, located in the Sacramento River Delta equidistant between Sacramento and the East Bay, is one of the more recent newcomers to the urgent demand for housing in the region. The future suburban market has fast-forwarded population with new housing tracts, and the Liberty Island plan is not finished. CalTrans has already begun the process of improving and upgrading sections of Highway 12 running straight past the new neighborhoods.
"As new residential come online, the next phase of  regional expansion is signaled by supporting commercial space, which is retail and medical, and then industrial to support the housing development maturing in the region," shared Slocum. The current available plots of land are planned and zoned for a variety of uses from senior care to industrial.
In the midst of the COVID-19 pandemic, it is essential that landlords continue to educate themselves, communicate openly, and surround themselves with experts in order to stay on top of the ever-changing legal landscape. To help make this possible I am sharing a great conversation I had last week with attorney Daniel Bornstein of Bornstein Law who specializes in landlord-tenant matters. For over 26 years, rental housing providers have relied on Daniel to cauterize risk, realize the full potential of their investment property, and power through unique challenges inherent with owning and operating a real estate business.
Below are some of what I felt were the most relevant and prudent points we discussed.
Daniel, with all that is going on right now, how can landlords in Alameda County best be prepared?
Most important to note right now is that the courts are closed for non-payment of rent cases, there are no jury trials because of social distancing. Alameda County across the multiple cities has issued a prohibition against eviction for non-payment of rent which means right now, if you have a tenant who is not paying rent, you really want to be on-top of communication with that tenant. You should be actively asking why aren't you paying the rent, is it related to COVID-19, loss of job, childcare needs or something else? Then you need to make a decision: are you going to be differing the rent, renegotiating the lease, or negotiating a buyout of the lease?
One important point is that from a landlord's perspective knowing the courts are closed, it is in some cases better to have a vacant unit than a tenant not paying the rent in the unit. There is a possibility that you're not going to gain possession, the non-payment of rent may elapse for more than 6 months, and there is no clarity as to when you're going to get that vacancy. So, if a tenant says I am willing to vacate if you let me out of the lease that may be perfectly prudent because what is the alternative? The courts are closed, you're not receiving rent, and to do an eviction right now is not permissible and may not be permissible this year. We are in a very unfortunate situation for many landlords around Alameda County right now.
How would you approach a situation where you have a tenant who is communicating openly and requesting a rent reduction?
That is a good question, and I take it on an individual basis – if you just started a tenancy, and the rent is at market rate, and we are seeing downward pressure on rents, it may be prudent to negotiate a 10-20% reduction in rent and keep that tenant in the unit and happy. In the end, cash-flow is better than no cash-flow, and the issue is whether this is a credible person that you want to do business with or not. In the event that you do have a tenant who is engaged and in good faith and is without a job, you're going to have to make a decision of whether you are going to delay payment, differ payment or waive rent.
One big note, if you reduce the rent and you don't do it correctly, you may reset the base rent so that you may be subject to that new base rent in later years when times change. All things equal, I'd rather you defer the rent or just keep track of the debt that is accruing and, in the future, come to a decision of whether you are going to waive it or try and collect it. Alameda County has done something very unusual in that they have indicated that tenants with rent debt that has arisen during the COVID-19 emergency are going to be given 12 months after the emergency is ended to repay that debt. If it is not repaid it will be transitioned to consumer debt, so you will not be able to evict a tenant for COVID-19 related debt. You can take it from the security deposit and you can file a lawsuit against them, but you're not going to be able to use a three-day notice to pay rent or quit to recover it. Knowing that has basically pushed me to suggest the age-old adage, a bird in the hand is worth two in the bush. Which means if you can collect a portion of the rent now, do so because I don't know that you'll ever be able to recover it in the future.
All things being equal, and if you don't want to get into the complexity – if the rent is $1,000 and you receive $750, you can accept $750 but follow it up with an email saying, 'I've accepted $750, but be advised there is still a debt of $250 for the month of July.' I'd do it that way and just keep track of the debt that's accruing.
How has your business changed and what kinds of requests are you getting from clients at the moment?
It's a tough time to be an attorney right now because the courts are closed! So, what I am typically doing right now is consulting, educating, empathizing and commiserating, because I don't have that many skills that I can offer right now to help accomplish goals. Which translates to, compromise, compromise, compromise is really what I am suggesting. This is an outlier of an event, I've never been involved with a pandemic before, I've never seen the courts closed, so this is a work in progress.
As far as an outlook, what if any legal trends you are forecasting?
Trending in my mind is that there is going to be continued downward pressure on rent, and there is going to be more and more tenants that are unable to pay the rent. After July, if there aren't additional unemployment payments then there is going to be even more tenants unable to pay. Then it will be up to the politicians to decide how they are going to handle this crisis, but my expectation is that we are in for a very long and difficult journey together.
I am particularly concerned about another issue, which is the courts are moving existing cases to September, and they will likely move the existing cases that have been moved to September, to December while we are getting a confluence of new cases that are arising. Our systems are clogged and only will get further clogged, which means if you can avoid litigation, if you can avoid a dispute with a tenant, avoid it, negotiate transitions, and don't expect to accomplish your goals easily through litigation.
One easy analogy if you've been following the news lately, you'll have seen the actor Johnny Depp has decided to pursue a claim in Britain against his ex. In the process of pursuing litigation, he has ensnared himself in something much larger and from a public standpoint it has been miserable for his reputation. In some respects, the optics of pursuing litigation on a tenant right now are not ideal and only in a last case solution would I pursue it. There are going to be times where you have to pursue it because you have a tenant who is not communicating or cooperating, and you have to seek judicial remedy but for all other instances see what you can do outside of court.
Written By: Teddy Swain, | July 29, 2020
About the Author:
Teddy is a commercial real estate broker and adviser at TRI Commercial Real Estate Services in the San Francisco East Bay. His expertise lies in the acquisition and disposition of East Bay Area Multi-Family and Mixed-Use property as well as Entitlement and Development Opportunities.
Teddy also serves as the Technology Officer on the board of directors for the Certified Commercial Investment Member's Northern California Chapter (CCIM).
DRE# 02067677 Email: teddy.swain@tricommercial.com –
Direct:925.296.3360
Read original article on The Registry here.
The cost of doing business and heightened competition in top markets such as the Bay Area, Silicon Valley and the Los Angeles metro is increasingly untenable, and companies are setting their sights on inland markets.
By Lisa Brown | July 20, 2020 at 04:00 AM
WALNUT CREEK, CA—Before the global pandemic that roiled the economy and commercial real estate industry, commercial real estate brokers were noting a growing trend of companies moving out of dense West Coast markets. Faced with rising prices, and lack of office and industrial space, along with the rising cost of housing and business taxes, many small- and middle-market enterprises were under pressure.
The cost of doing business and heightened competition in top markets such as the Bay Area, Silicon Valley and the Los Angeles metro was untenable, and companies began to set their sights on inland markets. The COVID pandemic is projected to accelerate this trend, according to Edward Del Beccaro, executive vice president with TRI Commercial/CORFAC International.
In California's major markets pre-March 2020, vacancies were decreasing in every sector except retail, which had exhibited an overall demand dip regardless of location. At the same time, the affordability and availability of housing in California were making it difficult for working- and middle-class people to find homes. In 2019, Census data showed that more people had moved out of California than had moved in for the seventh year in a row and a University of California Berkeley poll found 71% of people cited high cost of housing as the top reason for wanting to leave the state.
Mid-sized and small businesses such as billing companies, insurance firms, enterprise service companies, and smaller manufacturing and logistics firms couldn't compete with larger employers for space or talent. Those firms needed to relocate where workforces could find lower cost of living and better quality of life.
"Particularly in the Bay Area, our firm has seen companies reach their limits," Del Beccaro tells GlobeSt.com. "Because the Bay Area is constrained due to water, companies have spread out as far as Sacramento 60 miles northeast, creating super-commutes for their employees with travel times exceeding 1.5 hours one way. Business owners are looking beyond the Bay Area where both they and their employees can find better value and have more balanced home life. The COVID crisis also has companies looking at remote working and even leasing satellite locations in the outer suburbs away from downtowns."
In the Western US, smaller companies have increasingly moved into inland states including those in the near west such as Utah, Nevada, Colorado and Arizona. Chief Executive reported that from to 2015, more than 1,800 companies left California.
One beneficiary of the Cal exit is Nevada, where the favorable business climate and growth of companies following a new Google data center in Henderson is causing a new housing boom. MDL Group/CORFAC International, a brokerage based in Las Vegas, recently found flex industrial space for a solar panel company moving from Fontana, CA.
"We expect this trend to continue with similar type energy-related companies because the overall cost of living and cost of doing business within the Southern California market is excessive," said Hayim Mizrachi, president and principal of MDL Group. "Plus, Nevada has an excellent new home market and construction market, which will drive demand for alternative energy sources. Our climate is ideal for solar use and related businesses."
While the full impact of the COVID-19 pandemic is yet to be known, one possible trend brokers are watching is that more businesses will look to spread beyond dense urban centers and coastal cities, which have been harder hit by the virus. Similarly, as remote work becomes more accepted, resulting in changing needs for space and staffing, companies may no longer need to be in expensive coastal cities. The California exodus may accelerate as middle-market firms choose to relocate operations to cities that are friendlier for business and more livable for employees, Del Beccaro says.
Read original article on GlobeST.com here.
Written By: Teddy Swain, TRI Commercial Real Estate Advisor
Given all that is going on in the world today – Covid-19, shelter in place, record unemployment – it is now more than ever crucial that we continue to see the much needed affordable and market rate housing be built in the Bay Area. Cities and counties are still under pressure from state guidelines to meet the needed housing production thresholds despite a market that has been at a standstill for the last two months.
As things begin to open back up, it won't take long for investors, builders, and developers to remember that the Bay Area remains one of the most underserved housing markets in the nation. To discuss how these projects can still get funded during this public health crisis I interviewed Vern Padgett, a 40+ year banking and finance veteran and colleague of mine at TRI Commercial.
Vern – I appreciate you taking the time today to talk over Zoom. Can you share a bit about your background in finance?
I started my career in business out of college back in 1977 as a management trainee at the Mechanics Bank. At that time the bank did engage in commercial real estate lending but it was typically activity in support of clients that the bank had worked with for multiple generations. It was a rather docile institution from a business development standpoint.
As I worked my way up through Mechanics Bank, I became involved more and more with CRE lending and eventually started the corporate banking division. We basically revamped the bank into a real estate industries group and a corporate banking group. I took over the real estate industries side as that was my specialty for several years and eventually left the bank in 2006. I was then a founding member of Presidio Bank and after that the Chief Banking Officer at Bay Commercial Bank. Eventually I left Bay Commercial to start Black Oak Ventures where we offer more creative bridge financing for borrowers who aren't quite ready for the institutional lenders for whatever reason.
Let's jump right in with two examples of spec housing development: an 8 unit condominium project and a 100 unit mid rise apartment building. Both are speculative housing developments but both have vastly different debt requirements. How are those loans typically funded?
The first, smaller project would be of interest to your local or regional bank and there are any number of those banks in the Bay Area that would be interested in funding those loans today.
For the larger loan you are going to look for somebody in the market that is looking to fund a larger deal. Wells Fargo is the knee-jerk option because they are probably the most active in that space. They are very fussy about who they lend to so you're going to need to be a Wells Fargo client in order to get a Wells Fargo loan. Union Bank would also be a lender that may be interested as they are also a large player in that space. All these guys basically operate in a similar way; they have hold limits so they'll do a $100MM loan but they won't hold the full amount. They'll participate out with bank partners so you may have a Wells Fargo originating the loan but they'll have a 'bank club' and bring in say Union Bank, B of A, California Bank and Trust and they'll spread the $100MM across their partners and keep the piece they want.
So essentially on the larger loans banks are spreading out their holding risk with a select number of bank partners?
Yes – that's the business that a lot of these big lenders are in. They're in the business of managing the big relationships, taking care of their client needs, absorbing the amount of balance sheet exposure that is best for them and shedding the rest to their bank participants. Loan demand isn't high enough for a lot of the bank participants who try and originate their own deals and they don't have the clients to fill their balance sheets. We are wash with liquidity right now, so as one of these banks you don't want to be running at 60% loans to deposits because you don't make any money, you want to be up around 80%, 90% or 100%. That's why these partner banks are out there anxiously buying participations.
How has the underwriting for these loans changed given the trouble our economy is facing?
Well, there hasn't been that much done in the last month and a half. Things have pretty much tamed down as people wait to see how things will play out but I've talked to a number of construction lenders recently who are still actively soliciting projects and have closed construction loans on the smaller type deals that we discussed. However, post Covid-19 the rules on those loans have changed: you need to be able to underwrite a hold on the loan as though you are going to hold the asset long term as an apartment building and cover it at a Debt Service Coverage on a 25-year amortization of that construction loan fully funded based on your proforma. Construction lenders today are looking to price their loans on an either or basis; say prime plus 1 – prime is currently 3.25% – so that is a 4.25% minimum rate but they probably are going to fix the floor at 4.5%. So, you can look at it as prime plus 1 or 4.50%, the higher of those two.
I would say that the underwriting metrics have been tightened down a quarter twist on the screw. Deals that would have been done at say 70% of retail value are now being done at 65%. So you're seeing like a 5% cram down on the tightness of the underwriting. I think we still need a couple of months to see really where things will land.
We are currently in the midst of the pandemic; do you see lenders' ability to fund construction loans like the two in our example continuing?
The answer to the question really depends on the product type and the track record of the sponsor. Retail development right now is somewhat radioactive so you're probably not likely going to see much ground up retail development… for obvious reasons. Multifamily though is radically underserved especially in the Bay Area. It is very difficult to achieve entitlement for multifamily and the cities are under immense pressure from the state to fulfil their housing mandates and so I would suspect there will continue to be heavy demand as lenders like to see unfulfilled demand as a driver behind the reason to develop real estate. Not withstanding all the trouble that the economy is dealing with at large today as a result of COVID-19 and the SIP regulations; I can't imagine that there will be any kind of long term interruption in that category from a lending standpoint.
There seems to be a shift towards pursuing business with existing clients rather than procuring outside clients that lenders may not have an existing relationship with, is this correct?
Yeah, it's not as though we are in the midst of a go-go upcycle where banks are going to stretch to open up the doors to people who have very limited experience. People who used to work for a homebuilder and now want to BE a homebuilder are going to have a tough time. Those that have relationships and can demonstrate a successful track record in-line with the deal that they are trying to get approval for will still be able to find success today.
If you had to summarize our conversation into a few main takeaways what would they be?
I recently had a discussion with Bank of Marin regarding post Covid speculative for-sale residential product. Some of the key points that we discussed were:
The Bank maintains interest in the space and will lend a maximum of 70% of Bulk Sale Value (prospective completed value method), or 70% of documented Developer cash costs (the lesser of)
Will lend up to 18 months with a Coupon Rate to float at Prime + 1%, with Floor of 4.5% – 4.75% and a 1% Loan Fee plus all transaction costs for Borrower's account
Release pricing on unit sales will be 125% of par, per unit, or 100% of net sales proceeds (the greater of the two)
Borrowers are to reflect solid successful track record with projects of a similar scope and complexity, with deep experience, demonstrable global liquidity, cash flow, and positive referrals from reliable sources.
Loans to be structured with full recourse to sponsorship via unconditional repayment guarantees with contingencies and contractor suitability is to be acceptable to Bank
By Chris Macias
On the surface, the scene looks like an idyllic snapshot of brunch time in downtown Sacramento.
It's a recent Saturday morning at Jim-Denny's Diner, where servers carry Frisbee-sized pancakes to its sunny and crowded patio. Inside, the 10-seat counter remains packed and chatty while onions and burgers sizzle on a tiny grill. The line snakes out the door and down 12th Street.
But it all goes down bittersweet. Jim-Denny's Diner is in its final days, with plans to close for good on Feb. 2 after 85 years in business. What smarts even more is how much scenes like this are being replicated these days in Sacramento.
Danielle McCune, co-owner of Jim-Denny's, sometimes holds back tears as the restaurant's final closure inches near. She and her family took over the landmark eatery about a decade ago, the fifth family to carry on this iconic Sacramento brand that was founded when Franklin D. Roosevelt was president.
"I'm trying not to cry," McCune said by phone after a recent lunch rush. "All my kids grew up there and I'm trying to tell them what to do now. Our whole life was Jim-Denny's. We never saw this coming until December."
Starting in the final weeks of 2019, Sacramento has witnessed a dramatic wave of restaurants closing or announcing their impending shutdown. At one point, headlines blared "bloodbath" as the toll hit 10 restaurants in less than two weeks. The list includes such beloved legacy spots such as Jim-Denny's Diner, Original Perry's and Café Marika. New-school restaurants weren't spared either, including Hot Italian, The Press Bistro and Mother, the Michelin-honored vegetarian restaurant.
Local restaurateurs are spooked, wondering if Sacramento's food bubble has burst. Customers wonder what's becoming of Sacramento as the industry in "America's Farm-To-Fork Capital" seems to be going fallow.
Or maybe restaurants have been drenched in a perfect storm of business challenges, as costs continue to increase from a higher minimum wage, rent and food—all while trying to survive on razor-thin profit margins.
McCune said the property owner was planning to double their rent. The nearby Sacramento Convention Center is closed for renovations until November, which cut the diner's tourist business.
Jim-Denny's Diner was done.
"All I can say is thanks for the love and support, and keeping us there as long as we were," McCune said.
Restaurant rush
Remember a decade ago, when a Golden Age of restaurants and culinary culture emerged across the country? Sacramento was no exception.
Local chefs became celebrities, while a rush of new places catered to just about every taste. Whether it was sushi, vegan dishes, high-end tweezer food or a gigantic burger, Sacramento had it covered.
Rodney Blackwell remembers those salad days, when food bloggers scurried to the latest openings and new foodie events were born.
In 2012, on the heels of his successful "Burger Junkies" blog, Blackwell founded the Sacramento Burger Battle. This all-you-can-grub event for charity now draws upwards of 1,000 people each year.
"For me, it was exciting because it was all new to me," he said about the early 2010s. "I had just discovered an app called Foodspotting. That's where I found all the restaurants downtown and saw where people were eating. They were different than the usual upscale places. They were diverse and cool and it was fun to see it all grow."
Then, it all seemed to change in the final weeks of the decade.
Fat City Bar & Café in Old Sacramento closed in November after 43 years of business. Original Perry's, the beloved South Sacramento diner, announced its closure in December after a half century, citing slowing business and rising rents. Hot Italian, the Midtown pizza staple, closed on Dec. 29 following ownership disputes.
New Year's Eve was especially grim. As 2020 approached, Mother, Sail Inn Grotto & Bar in West Sacramento and The Press Bistro all served their final customers and prepared to shut down for good.
The closures didn't stop. In January, Café Marika's owners announced they were retiring after serving Hungarian food for three decades. Jim Denny's-Diner and Café Rolle, the French sandwich shop in East Sacramento, announced their own closures. By the end of the month, Gogi's Korean BBQ near the State Capitol was also done.
Local restaurant owners such as Simon DeVere White had worried about a downturn like this. Along with his brother, Henry DeVere White, the family oversees De Vere's Irish Pub locations in downtown Sacramento and Davis, along with The Snug bar at 15th and R streets.
They've seen the times get tighter all around Sacramento's restaurant industry, neighborhood diners and white-tablecloth eateries alike.
"I think this is the tip of the iceberg," Simon DeVere White said. "We're going to see a lot more restaurants close this year. It's not just one thing. Minimum wage is not the reason restaurants are closing. It's part of it. But it's part of a larger issue and problem. It's really hard right now with the costs of doing business being so high and every year going higher and higher."
But like all industries, there will be good times and big downturns. The Great Recession of 2008 also led to a wave of local restaurant closures.
The opening of the Golden 1 Center in 2016 was supposed to be a boon for downtown restaurants. Several new eateries opened in anticipation. But it's proven to be an especially tricky area to do business, said Brenda Miller, a TRI Commercial vice president who specializes in leasing restaurant space. The cost of leases, tough competition and light traffic on non-event nights are a triple-whammy for restaurant owners.
"There was new development on K Street in front of the entrance that still is not totally complete, and because of cost of construction and the excitement, the rates were very high," Miller said.
The bottom line
The truth is most restaurants are lucky to make it in the long haul. Restaurants tend to run on the slimmest of profit margins, often between 3% and 5%. So even the slightest of overhead increases can do significant damage to a restaurant's bottom line.
DeVere White says the minimum wage increase to $13 an hour as of Jan. 1 means "thousands of dollars" of increased costs. When wages rise, so do workers' compensation and payroll taxes. And that's on top of spiking food costs and rents.
"Every year, everything goes up," DeVere White said. "Whether you own a restaurant or not, you go to the grocery store and realize that carton of milk used to be $2.99 and now it's $4.99. It's no different for us."
"A lot of restaurants are trying to do more with less," he added. "You might not have a hostess or food runner like you used to. Do you just keep one server on the floor? We all know how quickly that can backfire."
Or owners opt to shut down.
The uptick in restaurant closures isn't limited to Sacramento. According to SFGate, which crunched numbers from Yelp and other sources, more than 400 restaurants closed in San Francisco during 2019. Restaurateurs took their complaints to City Hall in September, raising such issues as high rents, labor costs and other factors they said were crippling the local industry.
The California Restaurant Association has kept a close watch. Based in downtown Sacramento, just a few blocks from Jim-Denny's Diner, the association advocates for the state's nearly $82 billion restaurant industry.
"If policymakers don't find a solution that helps both workers and small businesses thrive, more family-owned restaurants will close and more working people will lose a shot at a first job," an association spokesperson said in a statement to SN&R.
Like San Francisco, the issue of spiking rents remains a key concern for Sacramento restaurants. According to TRI Commercial, a property management company that collects real estate data in Sacramento and other cities, retail leases have in Midtown and downtown more than doubled over the past decade, from $1.39 per square foot in 2009 to $2.26 in 2019.
Want to open a restaurant in Downtown Commons or near the Golden 1 Center? Those leases can jump to $3.50 to $4 per square foot.
These figures also don't account for "triple net," a typical agreement where tenants pay all property expenses—such as maintenance, real estate taxes and building insurance—on top of their leases.
And leasing costs almost always go up; the industry standard is 3% each year. A restaurant that in 2010 was paying $10,000 per month in rent is now at a rate closer to $15,000 a month.
"For us, the main thing was the rent," McCune said about her restaurant's closure. "The property was being sold by the owner and it was going to double the rent we pay. It's been crazy."
One last bite
So is the line back at Jim-Denny's Diner.
Gloria Patton-Ross of Sacramento endures a nearly two-hour wait to receive her burger order. But it's now or never. She savors the memories, as do so many others in line. They take cell phone pics and ask for mementos. A copy of the menu, a business card, even the smallest of souvenirs will do.
"I worked across the street and used to come here all the time, for breakfast and lunch," said Patton-Ross, with a whisper of defeat in her voice. "This was one of my favorite spots. It's such a shame, but it is what it is."
The soul of Sacramento can be found in homespun places such as Jim-Denny's. You can also find it in a plate of goulash from Café Marika, or a hot duck pâté sandwich from Café Rolle, or a dish of steaming loco moco from June's Café, the Japantown favorite that's been shuttered since July.
When legacy restaurants like these go away, so do slices of Sacramento history. Their dishes speak to the city's diversity, the character of its neighborhoods and the loyalty of its customers.
"The neighborhood joints, you're not just meeting your neighbors there, you're getting to know the chefs, the cooks," said Blackwell, the food blogger. "When you become a regular at a place like that, people know your name, like a Cheers kind of thing. It sucks to lose places where you have the familiarity, and you can only hope other places will come in to fill those needs."
Ultimately, Sacramento's restaurant industry may be undergoing its latest changing of the guard, one where the strongest will survive—and thrive—in this age of rising costs. After the Great Recession, other restaurants filled vacated spaces as well.
"Things are always going to be evolving," said Christina Snyder of TRI Commercial. "Even though we're having this kind of fallout from restaurant tenants, we're already getting calls from other [restaurant owners] that aren't even in this market."
So Sacramento restaurant owners press on, through the grim headlines and financial challenges.
Some glimmers of good news have emerged during the spate of closures. Though Mother closed its K Street spot, some of its signature dishes can still be found at Empress Tavern. Part of Mother's founding team is also on the verge of opening Jim's Good Food, a diner at 16th and O streets.
It was also announced this week that Nash & Proper, the popular food truck that peddles Nashville-style hot chicken sandwiches, will open a brick-and-mortar location at the former Mother spot.
The long-vacated Saddle Rock space near 18th and L streets recently reopened as Saigon Alley. Opa! Opa! is relocating to Midtown after originally announcing in November that it was shutting down in East Sac. Localis is moving to East Sacramento and turning its 21st and S location into a tapas bar.
Even in these turbulent times, the hunger for Sacramento cuisine is still there.
"It's always sad to see a landmark restaurant close," DeVere White said. "But I'm very optimistic and I'm very passionate about what we do. As the city goes through its growing pains, so do the restaurants."
View original newsreview.com article here.
October 10, 2019 Dean Boerner, Bisnow San Francisco Reporter
When Pacific Gas & Electric Co. broadened its shut-off map to about 600,000 customers Wednesday night, the utility company also added to the number of owners and property managers forced to enact emergency measures.
It's a potential, but untenable, new normal for Northern California.
"There has to be a better way," said Ed Del Beccaro, executive vice president of TRI Commercial, a prominent Northern California brokerage and property management firm. "We can't be doing this four or five times a year. This can't become the new norm."
PG&E did not reply to a request for comment about how often it expects to enact rolling blackouts.
In San Diego County for much of the decade, Public Safety Power Shutoffs by San Diego Gas & Electric Co. have been a norm of sorts. The utility company has executed 13 such power shut-offs since the first instance in 2013, SDG&E told Bisnow. 
SDG&E's PSPS have affected largely the more rural, less densely populated East County, San Diego area, the Southern California Rental Housing Association said Wednesday. PG&E's power shut-offs to over 30 counties in Northern California have impacted considerably more multifamily and office buildings. 
Thrust into new territory starting Wednesday morning with the North Bay Area and counties inland falling into outage zones, Bay Area office and residential property managers have had to do some thinking on the fly while utilizing long-existing protocol.
"You can't be in a building without power," Transwestern Northern California Vice President of Asset Services Blake Peterson said. 
For the many older office buildings throughout the Bay Area, that means working remotely, or not at all, and hiring personnel for emergency 24/7 services.
"The whole building card access system goes down, and a lot of times that system is not on emergency power, but runs independently," Peterson said. "Engineers are on-site, security is on-site checking IDs, letting people in, often just to get medicine or cellphones."
Both Peterson and Institute of Real Estate Management San Francisco President Vanessa Honey say constant fire watch is a necessity. Honey says security will be compromised to an extent, even with more personnel brought to monitor darkened, unpowered multifamily buildings.
"We actually have to hire someone who is trained to use their eyes and their nose to monitor buildings and notify the fire department in the event of a fire," Peterson said.
Many of Transwestern's buildings, including its 1M SF footprint of life science ones in south San Francisco, have generators, but the company has faced several outages in unspecified properties in San Ramon and Walnut Creek. Peterson said Transwestern has taken precautionary measures for properties "on the cusp" of PG&E's shut-off map, which is based largely on weather forecasts, and has been in flux.
"We have a four-story building in Oakland, and we decided to stop using the elevators," she said. "The really critical piece is communicating with building occupants and owners."
IREM has stepped up its customer service, according to Honey. Many of its employees have dedicated their time to that given limited productivity on other tasks due to shut-offs. Most of IREM's leasing offices don't have generators.
"IREM professionals are going the extra mile from the leasing perspective and being extra kind and understanding during these times," Honey said. "We have more time because we have less to do with our computers down."
Transportation has been a widespread concern among tenants and property managers this week, including only recently allayed concerns that the vital Caldecott Tunnel would close and problems with BART would arise. 
"The Public Safety Power Shutoffs are not affecting BART train service in any way because of the enhanced power redundancies we have put in place across BART's system," a BART spokesman told Bisnow.
But many were kept from work nonetheless, say Honey and Del Beccaro. Word that the Caldecott Tunnel would remain open barely arrived before outages commenced. 
"I bet there is going to be a run on generators," Peterson said. "There is potential for landlords to recognize that lack of occupancy means lack of productivity and employers are going to want to be in buildings that can sustain through this type of thing. Our hands are completely tied by what PG&E chooses to do."
"Is this the new normal? That's the question everyone is asking."
Read original BisNow article here.
By Ben van der Meer  – Staff Writer, Sacramento Business Journal
Sep 23, 2019, 9:56am EDT
On the corner of a busy intersection, the Foothill Farms Plaza retail center is a bit tired, something even the owner said he'd admit.
That's beginning to change, though, with a $2 million investment at 5401-5445 Auburn Blvd. to refresh the buildings and bring in a new anchor tenant.
"We had an opportunity to buy and we had a relationship with Goodwill," said Alan Gottlieb, president of Calabasas-based Real Estate Affiliates. "We felt they would add a lot to the center and to the community."
Built in 1960, the 202,554-square-foot center has about 65,000 square feet of buildings. Goodwill will fully occupy a 34,000-square-foot building that formerly housed a grocery store but is currently being gutted for the new tenant.
"At Goodwill, we're always looking for places where we can do the most good in the community," said Rachel Wickland, chief mission officer for Goodwill Industries Sacramento Valley & Northern Nevada. The Foothill Farms location will have retail sales, donation drop-offs and community training, she said.
Gottlieb said that as Goodwill moves into its new space, the rest of the center is getting updated landscaping, parking, and other improvements, while anchors Harbor Freight Tools and O'Reilly Auto Parts will remain, though their buildings will also be improved.
Two spaces, of 4,800 and 1,500 square feet, are available. Bryan Wirt of TRI Commercial/CORFAC International is the broker for those spots. Gottlieb said the larger location would be ideal for a boutique gym or dance studio, while the smaller would best house some kind of food-related use.
According to Gottlieb, Goodwill is set to open in the first quarter of 2020, though Wickland said it could be as soon as November. Most of the rest of the property work should be done by November, Gottlieb said.
Property records with real estate data site Reonomy Inc. show Foothill Farms Sacramento LLC, with an address in Calabasas, bought the property in April for $5.2 million.
View original article on the Sacramento Business Journal here.
By Ben van der Meer  – Staff Writer, Sacramento Business Journal
Aug 15, 2019, 2:58pm PDT Updated Aug 15, 2019, 7:11pm EDT
A sought-after feature made a Woodland industrial property desirable. And for the buyer, another rarely found feature made it even better.
Both a sizable yard and access to a rail spur characterize 1455 E. Kentucky Ave., which Redding-based Gerlinger Steel & Supply Co. bought in early July for $7.75 million.
Jeff Post, a senior vice president with TRI Commercial/Corfac International who worked on the deal, said Gerlinger already owned an adjoining property in Woodland. The property at 1455 E. Kentucky Ave. has eight buildings and about 77,000 square feet of space.
"Us brokers call that low hanging fruit," said Post, who represented the seller, Nampa, Idaho-based Gayle Manufacturing Co. Gerlinger will lease the property to ConXtech, a construction technology company relocating to Woodland from a site in Hayward, where a comparable property can be three times as expensive on a square-foot basis. "Of the 18 acres, half is yard space, and it has rail. That's very beneficial to both."
Tim Gerlinger, Gerlinger's vice president, said the company wasn't really looking for a local property, until 1455 E. Kentucky became available.
"It's directly south of our property, so it was a good opportunity to expand," he said. Though ConXtech will be the primary tenant, the rail spur access will make it easier to get materials from the Midwest for Gerlinger's operation, he said.
A representative for Gayle Manufacturing did not return a message seeking comment. Post said Gayle's directors decided late last year to consolidate operations in Idaho and close the Woodland site, though the company still has a small office here.
Industrial users, particularly construction companies, are on the hunt for yard space because they can use it to store equipment, vehicles and materials, Post said. As homebuilding and other construction sectors have grown in recent years, the availability of properties with sizable yards is 3%, he said. In the Woodland/Davis area, overall vacancy for industrial properties is 4.5%, according to TRI Commercial's second-quarter figures (download the full TRI Sacramento Q2 Industrial report here).
"The fact that it has a very hard-to-find rail spur and a surplus yard, that's next to impossible to find," Post said.
Zac Sweet of Buzz Oates worked on behalf of the buyer in the deal.
View original Sac Business Journal article here.
TRI Commercial's Cultural Shift and Upgraded Platform Begin to Pay Off 
(June 17, 2019 – SAN FRANCISCO) – TRI Commercial/CORFAC International increased its roster by nearly 25 percent over the last six months, adding 12 brokers in the East Bay and eight in the Sacramento region. The company, one of Northern California's top independent commercial real estate brokerages, developed a strategic plan in early 2018 to transform its deep local roots into a stronger more competitive regional presence.
The company, one of Northern California's top independent commercial real estate brokerages, developed a strategic plan in early 2018 to transform its deep local roots into a stronger more competitive regional presence. Edward F. Del Beccaro, TRI Executive Vice President and East Bay Regional Manager and Sacramento/Roseville Regional Manager Ed Benoit, CCIM says the firm is focusing on key hires and empowering existing talent companywide. "We offer competitive splits, exceptional support services and a sophisticated platform. Brokers are quickly noticing that TRI is a great place to pursue their business goals." 
In Walnut Creek, the robust growth quickly exceeded the capacity of existing office space. "To accommodate the influx of new brokers, we recently moved into a larger upgraded suite of private offices and collaborative work areas," Del Beccaro said. "When we host our grand opening this summer, we'll celebrate not only our new space but also the tremendous vision and diligence of our team as they elevate TRI to new levels of success."
Del Beccaro, tasked with growing the company's East Bay presence, recruited some well-known faces in the brokerage community.  Most recently, Senior Directors Robin Newton and Patric Davis joined the firm from Colliers International in Pleasanton, each with more than 30 years of retail experience.
Benoit and recently promoted Brokerage Manager Cole Sweatt welcomed veteran brokers Bryan Wirt as senior director of retail, and Rodney Ballinger as vice president of multifamily investments, among the year's bumper crop of new agents.
Rounding out the firm's new recruits are Senior Director Matt Hatfield, senior associates Kate Wright and Paul O'Drobinak and associates Jaimi Trunick, Ron Willet, Clayton Temple, and Ted Bard in Walnut Creek.  In Roseville, retail associate's John Hynes and Kannon Kuhn, land and investments associate Abdul Ejaz, investment advisor Steve Lefler, senior industrial associate Ross Relles, land and investments associate Ben Goldman. 
About TRI Commercial/CORFAC International
Founded in 1977, TRI Commercial/CORFAC International is a leading Northern California commercial real estate brokerage and property management firm (with more than 4 million square feet of commercial property under management) specializing in San Francisco, East Bay and the Sacramento Metro property markets. The company has expertise in tenant and landlord representation services and helps clients buy and sell commercial and investment-grade property. The company serves office, retail, and land, multifamily and industrial property sectors, with offices in San Francisco, Walnut Creek, Oakland, Roseville, Sacramento, and Rocklin. For more information, visit www.tricommercial.com or call Dina Gouveia in Corporate Marketing at 925.269.3305
CORFAC International is comprised of privately held entrepreneurial firms with expertise in office, industrial and retail properties, tenant and landlord representation, investment sales, multifamily, self-storage, acquisitions and dispositions, property management and corporate services. For more information on CORFAC's International presence, call the Chicago headquarters at 224.257.4400 or visit www.corfac.com.
See original Registry article here.