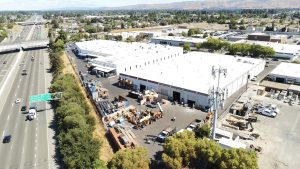 Fremont Industrial Building Sells Below 5 Cap
Improved, Bifurcated Warehouse Property Sells for Over 10 Million
(January 26, 2023 – Walnut creek) –  TRI Commercial is pleased to announce the sale of 37421 Centralmont Place in Fremont, California. This warehouse building, located in the insular industrial zone near the Fremont FAA Center and along the Nimitz Freeway, is the latest sale to top ten million dollars in price, and validating the strength of the industrial market. Ed Del Beccaro, and Teddy Swain represented the seller. The property was occupied by a national construction company, and featured a number of details that were appealing to a wide number of future occupants.
"One of the challenges our team faced was the tenant's 6-month lease termination clause provided in the lease agreement which made financing the deal extremely difficult. Despite this curveball we were able to secure an all-cash buyer and close at a 4.85% cap rate with a sale price of $10,300,000. Goes to show just how strong the industrial asset class remains."
37421 Centralmont Place was acquired by an investor as a future food manufacturing site, however that decision has not been finalized.
About TRI Commercial/CORFAC International
Founded in 1977, TRI Commercial/CORFAC International is a leading Northern California commercial real estate brokerage and property management firm (with more than 4 million square feet of commercial property under management) specializing in San Francisco, East Bay and the Sacramento Metro property markets. The company has expertise in tenant and landlord representation services and helps clients buy and sell commercial and investment-grade property. The company serves office, retail, and land, multifamily and industrial property sectors, with offices in San Francisco, Walnut Creek, Oakland, Roseville, Sacramento, and Rocklin. For more information, visit www.tricommercial.com or call Justin Flom in Corporate Marketing at 925.269.3335
CORFAC International is comprised of privately held entrepreneurial firms with expertise in office, industrial and retail properties, tenant and landlord representation, investment sales, multifamily, self-storage, acquisitions and dispositions, property management and corporate services. For more information on CORFAC's International presence, call the Chicago headquarters at 224.257.4400 or visit  www.corfac.com.
Media Contact:
Justin Flom
925.296.3335
Justin.Flom@tricommercial.com
BRIAN SLOCUM IS LATEST Bay Area Broker to JOIN SIOR
TRI Commercial Celebrates Rare Honors Granted to Industrial Expert Slocum
(March 25, 2022 – Walnut creek) –  Earlier this week, Brian Slocum, Senior Executive Director at TRI Commercial's Walnut Creek office received the certificate designation with SIOR, the Society of Inudstrial and Office Realtors. SIOR is an international organization connecting and honoring real estate brokers specializing in the sale and acquisition of industrial and office properties.
"Since starting in CRE brokerage I have always admired SIOR as an organization, as well as the brokers who are members. SIOR designees comprise some of the very best in the industry who are at the top of their game," said Slocum. Designation as an SIOR affiliated broker requires candidates to undertake an extensive application and recommendation process that takes several years and a proven track record. Slocum was the second most productive broker in TRI Commercial's Bay Area region in 2021 and currently represents over 160 acres of property for sale.
Among TRI Commercial's SIOR professionals, Slocum joins President Emeritus, Tom Martindale.
Top Retail Leases Recognized for East Bay/Oakland
(July 31, 2021 – OAKLAND, CA) –
Prominent retail leases signed by Sprouts Farmers Market, VinFast and S&G Flooring negotiated by top dealmakers from Merlone Geier Management, SRS Real Estate Partners, Lee & Associates Commercial Real Estate Service and Colliers International are among the second quarter retail leases recognized by CoStar.
As big ticket items involving sizable investments, commercial property transactions often have a wider impact within the community. CoStar will recognize the largest leases completed each quarter and the dealmakers who made them happen in their respective markets.
Here are the East Bay/Oakland retail leases selected as the second quarter 2021 winners of the CoStar Power Broker Quarterly Deal Awards:
Space Leased: 6,600 SF
Deal Type: New Lease
Size: 6,600 SF
Tenant: Unlimited Wireless
Brokers Involved: John Dunning of Tri Commercial/Corfac International represented both sides of the deal.
Deal Commentary: Unlimited Wireless, a wireless provider of wireless phones and repair services, recently leased space at this Oakland retail area on International Blvd. located in the Oakland-South/Airport submarket. The freestanding, single-tenant property is owned by Oakland-based Huntleigh Development, Inc.
Full article: https://product.costar.com/home/news/shared/1942343649?source=sharedNewsEmail
Multi-menu Delivery Platform Moves Into Fruitvale
(May 28, 2021 – OAKLAND, CA) –
Last week, REEF Technologies (www.reeftechnology.com) signed a lease for a vacant parking lot 1 block north of Fruitvale BART in Oakland – their first operation Oakland. Delivery-based food service retail appears to no longer be a trend, and Miami-based REEF Technologies is one of the businesses betting on it. The company connects major and minor brands to new markets they don't currently exist in – and allows them to set up a 'Ghost Kitchen' where they can duplicate the restaurant's menu, but not accept walk-up customers.
The first foray into Oakland is at 1242 35th Avenue, a previously underused ±13,000 SF gated lot along International Boulevard. Five businesses have already set up on site out of this location. Jack in the Box, which made headlines earlier this month when they formed a major partnership with REEF Technologies. "It's great to see this section already in action – what was once a paved lot is now home to a lively collection of businesses, big and small," said John Dunning, the broker who represented both sides of the license agreement.
"The way we connect and do business with  one another has changed, it only makes sense that we would also think creatively about the future of how we use real estate." Dunning also divulged that a small grocery operator had partnered with REEF to do some delivery items off of the lot, as well as Carbon Health (www.carbonhealth.com), who perform some basic medical services, such as rapid Covid testing.
(May 21, 2021 – PLEASANT HILL, CA) –
Southern Comfort Kitchen Inks Lease on Second Location
Southern Comfort Kitchen, a New Orleans style restaurant started in Castro Valley signed a new lease for their second ever brick and mortar restaurant space at Crescent Plaza in Pleasant Hill. The deal, which was officially agreed on April 28th, was a landmark achievement for the business. While restaurants, especially those with food truck divisions, struggled to maintain momentum in the pandemic year, Southern Comfort continued to soar. Brokers Sharon Quintero and Amanda Johnson represented the restaurant.
"We were just 3 people born in Louisiana who came to California to pursue our dream. Our family business wanted to provide good food at a good price.  We have always wanted to bring our food to the masses and go up against real franchises and this second location at downtown Pleasant Hill is a great opportunity to do so," said owner Brett Brill, who runs the organization with his two brothers and under the inspiration from their parents.
The new location fills in the previous spot occupied by Yalla Mediterranean in Crescent Plaza. Part of Pleasant Hill's retail core, the car and pedestrian-oriented locale will be able to service the movie theater, city hall, among other soon-to-be bustling destinations. Crescent Plaza also recently lost Fat Burger and Sweet Tomatoes, so the center is hungry to fill in vacancies by capable restaurants.
"Covid hit a lot of local favorites hard, but that meant that the ones that were successful even throughout are the real deal," explained broker Amanda Johnson,. "We've seen their trucks all over the Bay Area for years now, and as people begin to go out to eat more and more, it will be great to have another option of a brand they know is good. Southern Comfort has become that brand and they wanted to pounce on the opportunity that presented itself."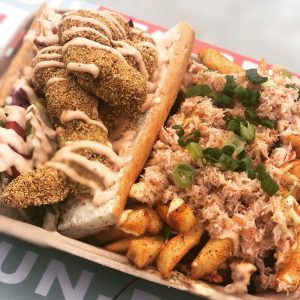 About TRI Commercial/CORFAC International
Founded in 1977, TRI Commercial/CORFAC International is a leading Northern California commercial real estate brokerage and property management firm (with more than 4 million square feet of commercial property under management) specializing in San Francisco, East Bay and the Sacramento Metro property markets. The company has expertise in tenant and landlord representation services and helps clients buy and sell commercial and investment-grade property. The company serves office, retail, land, multifamily and industrial property sectors, with offices in San Francisco, Walnut Creek, Silicon Valley, Oakland, Roseville, Sacramento, and Rocklin. For more information, visit www.tricommercial.com or call Justin Flom in Corporate Marketing at 925.269.3335
CORFAC International is comprised of privately held entrepreneurial firms with expertise in office, industrial and retail properties, tenant and landlord representation, investment sales, multifamily, self-storage, acquisitions and dispositions, property management and corporate services. For more information on CORFAC's International presence, call the Chicago headquarters at 224.257.4400 or visit  www.corfac.com.
# # #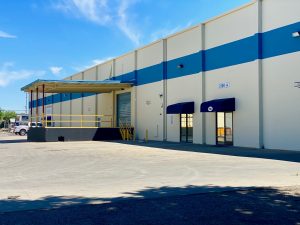 Central Valley Industrial Warehouse Deal is Marker of Logistics/Expansion Balance
TRI Commercial facilitated a lease for Terra Outdoor Living at 2080/2190 East Miner Avenue in Stockton, CA. Terra Outdoor Living, which sells patio and backyard furniture, recently outgrew its previous warehouse location in Richmond, CA. The new space totals 140,000 SF and provides Terra's logistics capability additional maneuverability in covering Northern California – cutting off an extra hour in the supply chain to access the growing population of the Central Valley.
"As the Bay Area has become more urban and crowded, finding room for large warehouse operations gets tougher," explained Keith Serne, who represented both Terra and the landlord in the deal. "Geographically, a move to the central valley makes sense for a lot of companies for both economic and logistic reasons."
When prompted to grow, companies' warehousing operations frequently look for the best bang for their buck without sacrificing mobility and proximity to their workforce and clientele. "Terra Outdoor Living's search fit a unique category in which the move both served a financial and logistic benefit," added Kate Wright, the senior broker who oversaw the transaction and represents the property owner's portfolio of industrial properties. "…And of course the pandemic may have accelerated the process with people sprucing up their homes while spending so much more time in lockdown."
RIO VISTA LAND SIGNALS NEW PHASE IN BURGEONING TOWN
Hundred Acres of Land Ready for Development Shaped Around Planned Neighborhoods
– Brian Slocum of TRI Commercial went to market last week on two additional pieces of development land for sale in the Rio Vista, California. The parcels, one measuring just over 24 acres and is Commercial focused; the other is 46 acres which is Industrial focused, flank two sides of the  golf-oriented Trilogy by Shea home community. The two sites join a third plot of Industrial/Flex land  to the north also for sale which is 33 acres near the Liberty Island active adult and non age restricted residential neighborhoods. Liberty Island residential has sustained explosive sales activity throughout the past year as residents from the inner SF Bay Area continue to spread out.
The town of Rio Vista, located in the Sacramento River Delta equidistant between Sacramento and the East Bay, is one of the more recent newcomers to the urgent demand for housing in the region. The future suburban market has fast-forwarded population with new housing tracts, and the Liberty Island plan is not finished. CalTrans has already begun the process of improving and upgrading sections of Highway 12 running straight past the new neighborhoods.
"As new residential come online, the next phase of  regional expansion is signaled by supporting commercial space, which is retail and medical, and then industrial to support the housing development maturing in the region," shared Slocum. The current available plots of land are planned and zoned for a variety of uses from senior care to industrial.
In the midst of the COVID-19 pandemic, it is essential that landlords continue to educate themselves, communicate openly, and surround themselves with experts in order to stay on top of the ever-changing legal landscape. To help make this possible I am sharing a great conversation I had last week with attorney Daniel Bornstein of Bornstein Law who specializes in landlord-tenant matters. For over 26 years, rental housing providers have relied on Daniel to cauterize risk, realize the full potential of their investment property, and power through unique challenges inherent with owning and operating a real estate business.
Below are some of what I felt were the most relevant and prudent points we discussed.
Daniel, with all that is going on right now, how can landlords in Alameda County best be prepared?
Most important to note right now is that the courts are closed for non-payment of rent cases, there are no jury trials because of social distancing. Alameda County across the multiple cities has issued a prohibition against eviction for non-payment of rent which means right now, if you have a tenant who is not paying rent, you really want to be on-top of communication with that tenant. You should be actively asking why aren't you paying the rent, is it related to COVID-19, loss of job, childcare needs or something else? Then you need to make a decision: are you going to be differing the rent, renegotiating the lease, or negotiating a buyout of the lease?
One important point is that from a landlord's perspective knowing the courts are closed, it is in some cases better to have a vacant unit than a tenant not paying the rent in the unit. There is a possibility that you're not going to gain possession, the non-payment of rent may elapse for more than 6 months, and there is no clarity as to when you're going to get that vacancy. So, if a tenant says I am willing to vacate if you let me out of the lease that may be perfectly prudent because what is the alternative? The courts are closed, you're not receiving rent, and to do an eviction right now is not permissible and may not be permissible this year. We are in a very unfortunate situation for many landlords around Alameda County right now.
How would you approach a situation where you have a tenant who is communicating openly and requesting a rent reduction?
That is a good question, and I take it on an individual basis – if you just started a tenancy, and the rent is at market rate, and we are seeing downward pressure on rents, it may be prudent to negotiate a 10-20% reduction in rent and keep that tenant in the unit and happy. In the end, cash-flow is better than no cash-flow, and the issue is whether this is a credible person that you want to do business with or not. In the event that you do have a tenant who is engaged and in good faith and is without a job, you're going to have to make a decision of whether you are going to delay payment, differ payment or waive rent.
One big note, if you reduce the rent and you don't do it correctly, you may reset the base rent so that you may be subject to that new base rent in later years when times change. All things equal, I'd rather you defer the rent or just keep track of the debt that is accruing and, in the future, come to a decision of whether you are going to waive it or try and collect it. Alameda County has done something very unusual in that they have indicated that tenants with rent debt that has arisen during the COVID-19 emergency are going to be given 12 months after the emergency is ended to repay that debt. If it is not repaid it will be transitioned to consumer debt, so you will not be able to evict a tenant for COVID-19 related debt. You can take it from the security deposit and you can file a lawsuit against them, but you're not going to be able to use a three-day notice to pay rent or quit to recover it. Knowing that has basically pushed me to suggest the age-old adage, a bird in the hand is worth two in the bush. Which means if you can collect a portion of the rent now, do so because I don't know that you'll ever be able to recover it in the future.
All things being equal, and if you don't want to get into the complexity – if the rent is $1,000 and you receive $750, you can accept $750 but follow it up with an email saying, 'I've accepted $750, but be advised there is still a debt of $250 for the month of July.' I'd do it that way and just keep track of the debt that's accruing.
How has your business changed and what kinds of requests are you getting from clients at the moment?
It's a tough time to be an attorney right now because the courts are closed! So, what I am typically doing right now is consulting, educating, empathizing and commiserating, because I don't have that many skills that I can offer right now to help accomplish goals. Which translates to, compromise, compromise, compromise is really what I am suggesting. This is an outlier of an event, I've never been involved with a pandemic before, I've never seen the courts closed, so this is a work in progress.
As far as an outlook, what if any legal trends you are forecasting?
Trending in my mind is that there is going to be continued downward pressure on rent, and there is going to be more and more tenants that are unable to pay the rent. After July, if there aren't additional unemployment payments then there is going to be even more tenants unable to pay. Then it will be up to the politicians to decide how they are going to handle this crisis, but my expectation is that we are in for a very long and difficult journey together.
I am particularly concerned about another issue, which is the courts are moving existing cases to September, and they will likely move the existing cases that have been moved to September, to December while we are getting a confluence of new cases that are arising. Our systems are clogged and only will get further clogged, which means if you can avoid litigation, if you can avoid a dispute with a tenant, avoid it, negotiate transitions, and don't expect to accomplish your goals easily through litigation.
One easy analogy if you've been following the news lately, you'll have seen the actor Johnny Depp has decided to pursue a claim in Britain against his ex. In the process of pursuing litigation, he has ensnared himself in something much larger and from a public standpoint it has been miserable for his reputation. In some respects, the optics of pursuing litigation on a tenant right now are not ideal and only in a last case solution would I pursue it. There are going to be times where you have to pursue it because you have a tenant who is not communicating or cooperating, and you have to seek judicial remedy but for all other instances see what you can do outside of court.
Written By: Teddy Swain, | July 29, 2020
About the Author:
Teddy is a commercial real estate broker and adviser at TRI Commercial Real Estate Services in the San Francisco East Bay. His expertise lies in the acquisition and disposition of East Bay Area Multi-Family and Mixed-Use property as well as Entitlement and Development Opportunities.
Teddy also serves as the Technology Officer on the board of directors for the Certified Commercial Investment Member's Northern California Chapter (CCIM).
DRE# 02067677 Email: teddy.swain@tricommercial.com –
Direct:925.296.3360
Read original article on The Registry here.
The cost of doing business and heightened competition in top markets such as the Bay Area, Silicon Valley and the Los Angeles metro is increasingly untenable, and companies are setting their sights on inland markets.
By Lisa Brown | July 20, 2020 at 04:00 AM
WALNUT CREEK, CA—Before the global pandemic that roiled the economy and commercial real estate industry, commercial real estate brokers were noting a growing trend of companies moving out of dense West Coast markets. Faced with rising prices, and lack of office and industrial space, along with the rising cost of housing and business taxes, many small- and middle-market enterprises were under pressure.
The cost of doing business and heightened competition in top markets such as the Bay Area, Silicon Valley and the Los Angeles metro was untenable, and companies began to set their sights on inland markets. The COVID pandemic is projected to accelerate this trend, according to Edward Del Beccaro, executive vice president with TRI Commercial/CORFAC International.
In California's major markets pre-March 2020, vacancies were decreasing in every sector except retail, which had exhibited an overall demand dip regardless of location. At the same time, the affordability and availability of housing in California were making it difficult for working- and middle-class people to find homes. In 2019, Census data showed that more people had moved out of California than had moved in for the seventh year in a row and a University of California Berkeley poll found 71% of people cited high cost of housing as the top reason for wanting to leave the state.
Mid-sized and small businesses such as billing companies, insurance firms, enterprise service companies, and smaller manufacturing and logistics firms couldn't compete with larger employers for space or talent. Those firms needed to relocate where workforces could find lower cost of living and better quality of life.
"Particularly in the Bay Area, our firm has seen companies reach their limits," Del Beccaro tells GlobeSt.com. "Because the Bay Area is constrained due to water, companies have spread out as far as Sacramento 60 miles northeast, creating super-commutes for their employees with travel times exceeding 1.5 hours one way. Business owners are looking beyond the Bay Area where both they and their employees can find better value and have more balanced home life. The COVID crisis also has companies looking at remote working and even leasing satellite locations in the outer suburbs away from downtowns."
In the Western US, smaller companies have increasingly moved into inland states including those in the near west such as Utah, Nevada, Colorado and Arizona. Chief Executive reported that from to 2015, more than 1,800 companies left California.
One beneficiary of the Cal exit is Nevada, where the favorable business climate and growth of companies following a new Google data center in Henderson is causing a new housing boom. MDL Group/CORFAC International, a brokerage based in Las Vegas, recently found flex industrial space for a solar panel company moving from Fontana, CA.
"We expect this trend to continue with similar type energy-related companies because the overall cost of living and cost of doing business within the Southern California market is excessive," said Hayim Mizrachi, president and principal of MDL Group. "Plus, Nevada has an excellent new home market and construction market, which will drive demand for alternative energy sources. Our climate is ideal for solar use and related businesses."
While the full impact of the COVID-19 pandemic is yet to be known, one possible trend brokers are watching is that more businesses will look to spread beyond dense urban centers and coastal cities, which have been harder hit by the virus. Similarly, as remote work becomes more accepted, resulting in changing needs for space and staffing, companies may no longer need to be in expensive coastal cities. The California exodus may accelerate as middle-market firms choose to relocate operations to cities that are friendlier for business and more livable for employees, Del Beccaro says.
Read original article on GlobeST.com here.
$892 million downtown Oakland deal includes $420 million purchase price for Oakland tower
By GEORGE AVALOS | gavalos@bayareanewsgroup.com | Bay Area News Group
PUBLISHED: June 15, 2020 at 5:45 a.m. | UPDATED: June 15, 2020 at 8:57 a.m.
OAKLAND — PG&E sought for years to find ways to exit its inefficient San Francisco headquarters complex and transplant its offices to the East Bay before finally striking a deal for a downtown Oakland office tower, bankruptcy court records show.
Court documents also reveal PG&E's official estimate for the number of workers the utility expects to deploy to the new Oakland headquarters: 4,500.
PG&E's deal for a lease with an option to buy a 28-story office tower perched on the shores of Lake Merritt is intricate, according to documents in PG&E's $58 billion bankruptcy case that's now in its final days.
Yet it appears the deal is a win for PG&E customers, the utility, and for TMG Partners, the veteran developer that intends to ultimately lease and sell the highrise to PG&E.
"For PG&E ratepayers, it's a smart deal for the company to make. For TMG, it's a brilliant deal," said Edward Del Beccaro, an executive vice president with TRI Commercial/CORFAC International, and Bay Area managing director for the commercial real estate firm.
The utility's deal for the downtown Oakland office tower includes a base rent of $57 a square foot per year, which works out to $4.75 a month per square foot, U.S. Bankruptcy Court files show.
"That rental rate is very low for downtown Oakland office space," Del Beccaro said. "I would have predicted it would have been $70 a square foot per year."
PG&E is poised to shell out up to $892 million if the utility buys the 300 Lakeside Drive tower, which totals 910,000 square feet, from TMG Partners.
The $892 million is an over-arching "all-in cost" with several components. Court files state the elements are: $420 million as the basic purchase price to acquire the office tower; $141 million for required code improvements and building improvement costs; $171 million for development fees, carrying costs, and transaction fees and expenses; and $160 million in allowances for custom-tailored tenant improvements that include technology systems, security, floor arrangements, and seismic work. These work out to $230 a rentable square foot.
Since the early 2000s, PG&E has been mulling what to do with the San Francisco office buildings, executives stated in court records.
"Many of the utility's (headquarters office complex) employees commute to San Francisco from the East Bay area, where the cost of living is far more affordable than in downtown San Francisco," PG&E said in a court filing.
Plus, the San Francisco headquarters complex has become steadily more expensive to operate.
"The costs of maintaining a headquarters in San Francisco have continued to increase due to both the growth of the local real estate market and significant costs PG&E would face to upgrade and maintain the San Francisco office complex," the utility stated in court documents.
By early 2018, PG&E intensified its efforts to extract cash from the San Francisco properties and hired TMG to evaluate the company's real estate prospects in San Francisco and the East Bay. In September 2018, PG&E tasked TMG with finding an East Bay site for the future headquarters, bankruptcy papers show.
"The utility most recently began evaluating a number of specific options to monetize the San Francisco General Office headquarters complex, including a full or partial sale of the San Francisco offices, in early 2018," PG&E stated in the bankruptcy court records.
The PG&E office complex in San Francisco consists of 77 Beale St., 215 Market St., 245 Market St., and 45 Beale St., court records show.
TMG and PG&E scouted an array of East Bay sites, including the Bishop Ranch business park in San Ramon and a portion of the redevelopment project at the Concord Naval Weapons Station. No deal materialized.
"By mid-2019, PG&E had been unable to locate a satisfactory property in the East Bay area that could meet the utility's various business needs," the court records stated.
PG&E pondered selling 77 Beale St. and moving workers into 245 Market St., or the reverse. But 245 Market was deemed too small, and 77 Beale was too large.
Then came a break. In November 2019, realty firms Swig Co. and Rockpoint Group put on the block the 300 Lakeside Drive tower along with an adjacent mixed-use office building and a big parking garage.
Well aware of PG&E's unrequited ardor for a new East Bay headquarters, TMG raced to make Swig and Rockpoint an offer.
"The utility quickly investigated and determined that the Lakeside Building would provide significantly greater economic benefits" than retaining a San Francisco headquarters. the court papers stated.
In January 2020, PG&E agreed to a deal for 300 Lakeside. A month later, Swig and Rockpoint picked TMG as the buyer of the tower, the mixed-use building, and the parking garage.
TMG negotiated a purchase of the complex while well aware PG&E was waiting in the wings as a 300 Lakeside tenant after the departures of tenants BART and the University of California Office of the President.
"PG&E intends to use the Lakeside Building as its new company headquarters, where it can consolidate approximately 4,500 employees currently located in San Francisco and at least two satellite offices in the East Bay," the court records state. The East Bay sites are in Concord and San Ramon.
The 300 Lakeside renovations are slated to start in 2022.
"It is currently anticipated 3,200 employees will be relocated to the Lakeside Building by early 2023, approximately 600 employees in 2025, with the balance of the space to be made available for an additional 600 employees beginning in 2026," the bankruptcy files stated.
TMG, after selling the tower to PG&E, would retain the parking garage and smaller mixed-use building. Those sites have a large enough footprint that they could be developed into one or more towers.
Obstacles remain. TMG must buy the site. A bankruptcy judge must grant approval. PG&E's track record of a string of fatal disasters that include an explosion and wildfires creates uncertainty.
"You can't always predict what will happen with PG&E,"  Del Beccaro said.
Read original article on Mercury News here.